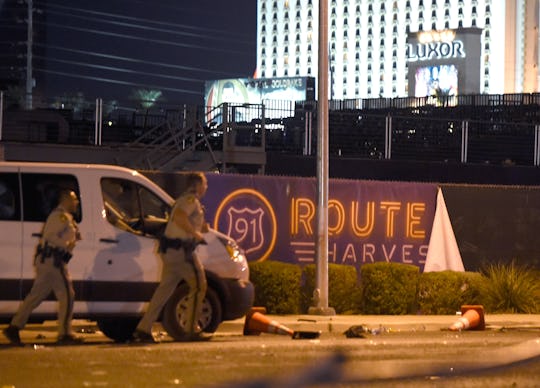 David Becker/Getty Images News/Getty Images
Start Calling The Las Vegas Shooting What It Was: Terrorism
Minutes after 10:00 p.m. Las Vegas time, the deadliest mass shooting in modern U.S. history occurred. From the 32nd floor of The Mandalay Bay, a 64-year-old shooter opened fire on a crowd of concert-goers enjoying the Route 91 Harvest Festival. More than 50 people have lost their lives, and at least 500 people are injured, according to CNN. So, was the Las Vegas shooting terrorism? This question, as often as it is asked, should not be difficult to answer.
Update: As of 6 p.m. ET on Monday, Oct. 2, CNN reports that 59 people have died and over 500 people were injured. Authorities say the suspect had 18 additional firearms, explosives and several thousand rounds of ammo at his home in Mesquite, Nevada.
Earlier: The investigation is ongoing, so multiple details have yet to be released to the media and/or public. What is known, however, is the now-deceased shooter's name (which will not be repeated by this publication) and the means in which the 64-year-old Las Vegas resident was able to kill more than 50 people while they enjoyed a three-day country music concert with their friends, families, and loved ones. According to CNN, the shooter opened fire on the crowd using an illegal automatic weapon, while safely hiding on the 32nd floor of The Mandalay Bay Hotel and Casino. According to local law enforcement officials, including Clark County Sheriff Joseph Lombardo, "SWAT teams quickly descended on the concert and the casino, and officers used explosives to get into the hotel room where the suspect was inside," as reported by AP. The shooter killed himself before officers entered the room and, according to Lombardo, no motive is known at this time.
Witness accounts, tweets, and videos reveal a harrowing, terrifying scene as the shooter opened fire.
A motive is not needed when determining whether this act of immense violence was terrorism, though. And while multiple media outlets are already describing the shooter as "a lone wolf," one only has to look at the definition of terrorism to see that this mass shooting — again, the deadliest mass shooting in modern U.S. history — is terrorism personified.
Terrorism, as defined by Merriam-Webster, is "the systematic use of terror especially as a means of coercion." It is also defined as, "the use of violent acts to frighten the people in an area as a way of trying to achieve a political goal."
The initial videos of the shooting (which will also not be shown by this publication, as they are disturbing and show innocent loss of life) show a violent act frightening people. That, reader, is terrorism. According to Newsweek, there were 244 mass shootings in the first 240 days of 2017. That, reader, is a "systemic use" of gun violence, which, again, fulfills the description of terrorism.
Jason Aldean was on stage at the time of the shooting. The country singer was able to flee the stage seconds after the shooter started firing shots at the crowd, taking cover as it was provided by the stage itself. Later Aldean put up an emotional Instagram post, urging people to "pray for Las Vegas."
The unimaginable frequency of mass shootings in this country is a reality we all, as citizens, must not only acknowledge but also actively try to combat. We must, as a country, push against the bigoted idea that mass shootings and other acts of senseless violence are only terrorist acts if the shooter is of a specific ethnicity, prays to a specific god, speaks a specific language, or dresses a specific way. Fear is a powerful tool, but it shouldn't be used to stereotype against one group of people while being simultaneously and knowingly used as a reason to ignore what is being done by others.
And while more information is yet to be released regarding the shooter, one thing is for certain: this person, now dead, doesn't need to align himself with a certain religion or hail from a specific country to be considered a terrorist. The Las Vegas resident killed more than 50 people, and injured at least 500 more. That is terrorism.