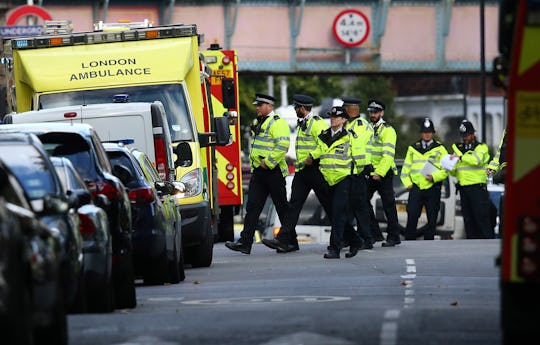 Jack Taylor/Getty Images News/Getty Images
Here's What We Know About The London Tube Explosion
As many as 18 people were taken to hospital after an improvised explosive device was detonated on a train at Parsons Green station in southwest London Friday morning, according to BBC News. Was the London tube explosion terrorism? While details of the investigation are still forthcoming, police are treating the incident as a terror attack.
A witness told The Guardian that the bomb had red wires coming out of a bucket that had been placed in a plastic grocery bag, and that the blast sent a "fireball" through the train car. In a statement following the attack, Metropolitan Police Assistant Commissioner Mark Rowley said that the majority of the injuries associated with the explosion are thought to be "flash burns," and asked the London public to "remain vigilant" as the investigation continues. Preliminary reports have also suggested that the bomb did not actually fully explode, which could be why the explosion did not result in any life-threatening injuries.
Following the attack, British Prime Minister Theresa May tweeted that her "thoughts are with those injured at Parsons Green and emergency services who are responding bravely to this terrorist incident," according to CNN, while President Donald Trump called the bombing "another attack in London by a loser terrorist."
Rumors began swirling following the attack that the bombing was part of a larger, coordinated terror attack that had been planned throughout the city, while others claimed that there was also a man with a knife loose on the train. But according to The Guardian, neither of these claims are actually true, and police have emphasized that the Parsons Green explosion is being treated as an isolated incident involving one explosive device only.
Friday's tube attack occurred while Britain was already on a high terrorist alert: according to The Telegraph, the official threat level has been considered "severe," suggesting that an attack could be "highly likely." There have already been four terror attacks in Britain this year — including the March attack at Westminster, and the Manchester Arena attack in May — and according to The Telegraph, the terror threat in Britain has actually been considered severe since Aug. 2014.
But despite the obvious fear and uncertainty that the bombing has created, many Brits have taken to Twitter urging people to avoid sharing or re-tweeting unsubstantiated details that will likely just continue to cause panic:
Many others have been focusing instead on praising the bravery and quick response from emergency services:
While those in the area have offered up ways to help anyone who may have been affected:
Police have not yet confirmed whether they have identified any suspects in relation to the attack — when asked, Assistant Commissioner Mark Rowley told reporters "It's a live investigation," according to CNN. But Rowley did emphasize that there would be an increased police presence in the city, and that hundreds of detectives were working with MI5 to investigate the incident, according to BBC News.
In the meantime, London Mayor Sadiq Khan has appealed for calm in a statement released on social media earlier today. Khan encouraged Londoners to remain vigilant but not panicked, and praised the "courageous emergency responders and the TfL staff" who were on the scene. He wrote,
Our city utterly condemns the hideous individuals who attempt to use terror to harm us and destroy our way of life.
As London has proven again and again, we will never be intimidated or defeated by terrorism.
For now, it seems as though the public will have to await further details about the Parsons Green explosion, but it does seem clear that it was intended to be a terrorist attack — and that, while it was no doubt incredibly scary for everyone involved, it may have been much worse if the bomb had fully detonated.
That's not exactly much consolation though, and even if no one had been hurt, the bombing serves as a infuriating reminder of the reality of the ongoing terror threat major cities like London face. But as always seems to be the case, it also hasn't stopped people from coming together to help and support one another, and that's something that shouldn't be overlooked while British officials continue to search for answers.