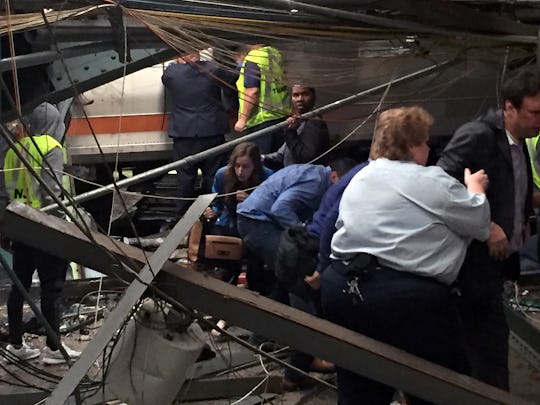 Pancho Bernasconi/Getty Images News/Getty Images
Was The New Jersey Train Crash Intentional? Many People Were Injured
A passenger train crashed into the station at Hoboken Terminal on Thursday morning, and ABC7 New York reported there are at least 100 people injured. Was the New Jersey train crash intentional? There is no proof yet to substantiate any claims of terrorism or some kind of coordinated attack, according to an NBC affiliate who spoke with local law enforcement. CBS2 News New York reported Thursday morning that there were serious injuries to report, though it was unclear how serious and how many people were badly injured.
Update: NBC New York reported one person had died from the crash.
It's unclear how the crash happened: CBS News reported live that the device on the track that stops the train in the case of an emergency was unable to do its job, meaning the train was likely traveling at a very high speed, though it's unclear just how fast it would have to be going for all of the emergency mechanisms to prevent such a crash to fail.
Passengers on the train told Reuters that they were troubled by the fact that the train was traveling into the station at such a high speed. Linda Albelli, 62, told Reuters she was sitting in one of the rear cars:
I noticed, 'he's not slowing up, we're going too fast,' and with that there was this tremendous crash.
She also told Reuters that many people were in need of medical attention. Passenger Bhagyesh Shah painted an equally devastating picture for NBC New York, saying:
The next thing I know, we are plowing through the platform. It was for a couple seconds, but it felt like an eternity. ... I saw a woman pinned under concrete. A lot of people were bleeding; one guy was crying.
BuzzFeed shared video of the crash scene taken by Twitter user Leon O, or @monduras:
NJ transit tweeted that rail service in and out of Hoboken was suspended due to the crash. PATH trains have also been suspended, according to Reuters. It's unclear how many people are trapped on the train still, or how many casualties there actually are.
Latest reports from NBC New York, who spoke to local law enforcement, reported that the train crash appears entirely accidental, and that there are no links to terrorism.
This story is developing...