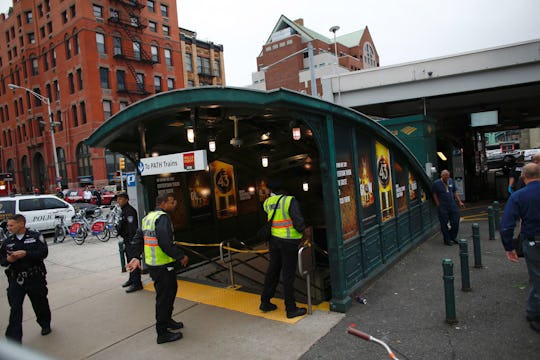 KENA BETANCUR/AFP/Getty Images
Was The New Jersey Train Crash Terrorism? Evidence Points To An Accident Or Operator Error
The investigation is ongoing for what caused a New Jersey Transit train to crash into a platform at Hoboken Terminal on Thursday morning. The crash left one dead and more than 100 people injured. Some are worried that the cause of the crash my have been related to terrorism. Was the New Jersey train crash terrorism?
New Jersey Gov. Chris Christie told MSNBC that there's "no evidence at this time" that the crash was "anything other than an accident." Christie also said in a press conference that the train came in at a "much too high rate of speed."
The train's engineer was injured in the crash and taken to Jersey City Medical Center. Christie said that the engineer has been cooperating with investigators. The Federal Railroad Administration sent investigators to Hoboken Terminal, NPR reported, as well as the National Transportation Safety Board.
Former Major League Baseball pitcher Curt Schilling (along with a number of other Twitter users) tweeted that he believed the crash was related to terrorism, adding that he was "hoping he was wrong." Schilling did not respond to Romper for comment.
New Jersey Assemblywoman Holly Schepisi assured the public that there is no reason to suspect criminal intent was behind the accident, NJ.com reports.
"At this time, there's no indication of any sort of nefarious activity," she said.
The Washington Post reported that because the National Transportation Safety Board has taken over investigating what caused the crash, terrorism is not immediately suspected. If it were, law enforcement officials would be investigating.
The National Transportation Safety Board's vice chairman Bella Dinh-Zarr said that the investigators will also look into whether the crash could have been prevented if the train had positive train control technology, which automatically slows down or stops speeding trains, NPR reports.
"Whether or not it is involved in this accident that is definitely one of the things we will look at carefully," she said.
Bhagyesh Shaw, who was riding the train that crashed, said the train never slowed down as it entered the station.
"We were thrown off our feet," he told The New York Times. "The train just didn't stop. It just kept going and going and going."
Kitty Higgins, a former member of the National Transportation Safety Board, said investigators need to look into why the train never slowed down, MSNBC reports.
"Why that happened, we obviously have to find out. Was there something that happened to the driver, was there an equipment failure we don't know yet? That's what will be looked at," Higgins said.