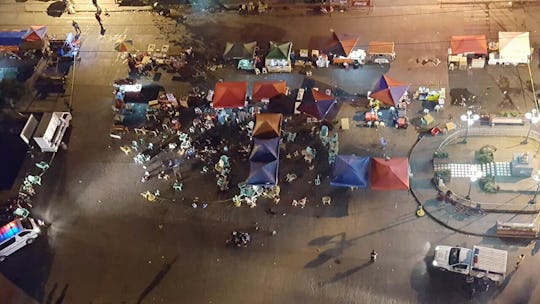 STRINGER/AFP/Getty Images
Was The Philippines Explosion An Act Of Terrorism? The Explosion Killed 15 People
These days, it seems like you can not turn on a television or go online without seeing the headlines and hearing bad news. Innocent people continue to die each day from violent acts of terrorism. Cities in countries across the world are left in ruins and fear because of it. On Friday night, the Philippines were the most recent country to be targeted by violence. But was the Philippines explosion an act of terrorism among all of these recent attacks?
The answer, unfortunately, could be "yes" — and the Philippines president, Rodrigo Duterte, according to CNN, is treating it as such. But what caused the explosion in the first place? And how bad was the damage? According to the International Business Times, the explosion happened in Davao City — a city in the Philippines around 10 p.m. According to the Government of the Philippines' official Facebook page, the bombing occurred at the city's night market (a street festival or fair that occurs during the night time hours) and injured over 60 people. According to CNN, the the bombing killed at least 15 people.
According to CNN, the entire country of Philippines has been placed on lockdown. But who is to be blamed for this salacious act — in a place frequented by so many people?
According to CNN, the official Philippines News Agency reported that the explosion was an act of terrorism and that the country would be treating it as such. "We have to confront the ugly head of terrorism," Duterte said. "We will take this as a police matter about terrorism." The bombing has yet to be claimed by any terrorist group.
According to the Government of Philippine's Facebook page, shortly after the explosion, checkpoints were placed at all exit points of the city to find the perpetrator of the crime and investigations are well underway to determine the cause of the explosion.
Late into Friday night, Davao City's Mayor Inday Sara released an official statement in regards to the attacks and assuring family members of the deceased that the city would assist in "hospitalization, funeral, burial, and day to day expenses."
We will not be terrorized by this heinous crime and I call on all Dabawenyos to unite and let us help each other rise from this senseless incident. Let us remain vigilant, please report any and all suspicious activity, no matter how insignificant it may seem.
According to GMA News, a network based out of the Philippines, in July Vice Mayor of Davao City Paolo Duterte confirmed that Davao City had received threats from ISIS. But it has not yet been confirmed whether or not ISIS is to blame for Friday night's explosion.
The explosion in the Philippines is devastating to hear. As investigations come underway and the weekend approaches, hopefully more details will be revealed about this crime that killed and injured so many innocent people.