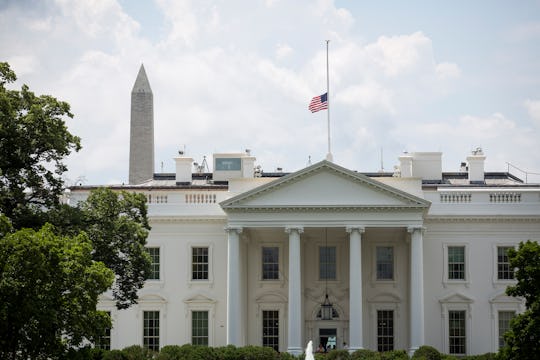 Pool/Getty Images News/Getty Images
The POTUS Twitter May Have Been Unsecured
Given that Twitter is President Donald Trump's apparent preferred method of communication to the American people, the security surrounding said account should be top-notch. On Thursday, however, it was discovered that the account was reportedly anything but secure. It's true — the POTUS Twitter was reportedly linked to a Gmail account, putting the account unnecessarily at-risk of potential hacking. Romper has reached out to the White House for comment but has not yet heard back.
The oversight was uncovered when various individuals requested their own password resets on Trump's account. When submitted, a recovery e-mail of "ds******************@gmail.com" popped up, which is believed to be the private account of a staffer (in defiance of both cyber security and legal protocol, notes The Independent). Given the first two letters of the recovery e-mail, it's further speculated that the account in question is that of Dan Scavino — Trump's "director of social media." Regardless, anyone who was able to gain access to the account's Gmail inbox would then have the ability to reset @POTUS' password, this sending out any tweet they wished. The Verge reported, however, that all Twitter accounts (including those for @FLOTUS and @VP) have since been switched to whitehouse.gov e-mail addresses.
Not only were the Twitter accounts previously linked to private e-mail addresses, but the account managers hadn't, according to The Hill, even enabled a layer of security features available to all accounts, regardless of their status. Twitter can send verification codes to mobile phone numbers, doubly securing an account but, prior to recent amendments mentioned above, these security measures seemed not to have been taken.
This discovery surfaces in a period of transition where multiple cybersecurity concerns are coming to light. Reports that Trump's "old, unsecured Android phone" was still his go-to device, even from inside the White House, surfaced on Wednesday. Despite "the protests of some of his aides," Trump as apparently insisted on continuing to use the phone.
It was also uncovered that multiple Trump staffers, including Jared Kushner, Kellyanne Conway, Sean Spicer, and Steve Bannon, continued the use of private e-mail addresses hosted by the Republican National Committee, though they reportedly discontinued the use of these accounts on Wednesday. Given his fixation on Clinton's use of a private e-mail server during the presidential election, one would presume that Trump would do everything in his power to prevent hacking, especially since Trump's cybersecurity mission was a key component of his campaign platform. If governmental safety is actually to be taken seriously, sacrificing an Android or ceasing the use of private e-mail accounts are necessary steps in keeping security where it needs to be.