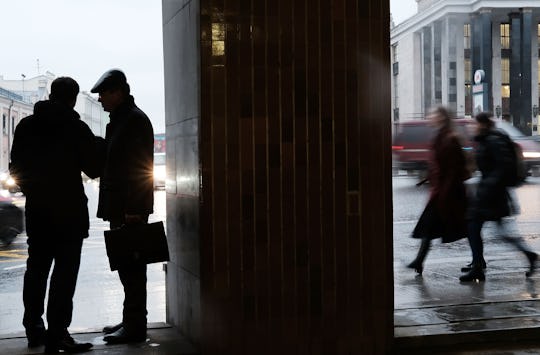 Spencer Platt/Getty Images News/Getty Images
Was The St. Petersburg Metro Explosion Terrorism?
Shockwaves were sent throughout Russia on Monday when an explosion on the St. Petersburg metro left many dead, injured, and terrified. As a result, people in and out of Russia are wondering was the St. Petersburg metro explosion terrorism or a horrible accident?
According to BBC, the Tass and Interfax agencies reported that the explosion occurred between two St. Petersburg stations — Sennaya Square (Sennaya Ploschad) and Technology Institute (Tekhnologichesky Institut) — at around 3 p.m. local time. Though initial reports cited that there were two blasts, CNN later confirmed via Twitter that there was only one explosion in St. Petersburg. As of now, 10 people were killed by the attack and at least 50 were wounded, however that number is sure to change as the chaos settles. According to The Telegraph, Metro stations throughout the city have closed and people are being evacuated from the public transportation terminals.
As soon as news broke, people began posting photos of the St. Petersburg explosion on social media. The images, some of which are a bit graphic, show people running through the dust and debris to find safety. The images also show the damage done to the trains and stations as a result of the explosion.
This is not the first time an explosion has occurred at one of Russia's Metro stations. In March 2010, suicide bombings at Moscow stations left 33 dead, according to The New York Times. The incident was eventually deemed a terrorist attack executed by pro-Chechen separatists. Given the past incident, and the state of the world we live in, many wonder if the April 4 explosion is connected to terrorism.
As of now, authorities have not cited terrorism as the cause of the St. Petersburg explosion. However, state media reported via CNN that, at this time, Putin was "not ruling out any causes behind the explosion." He said:
It's too early to talk about it. The investigation will show what happened. Naturally, we always consider all options — both domestic and criminal, primarily incidents of a terrorist nature.
Several news outlets reported that Putin was in St. Petersburg at the time of the attack, but nowhere near the explosion site. CNN reported via Russian state media that Putin was in St. Petersburg speaking at an event prior to the metro attacks. Additionally, the AP reported that Putin planned to hold talks with Belarusian President Alexander Lukashenko later in the day.
It seems like Putin's plans won't be interrupted by the events in St. Petersburg But one would hope that he will cancel any prior commitments to helping the people of his country in a time of need.