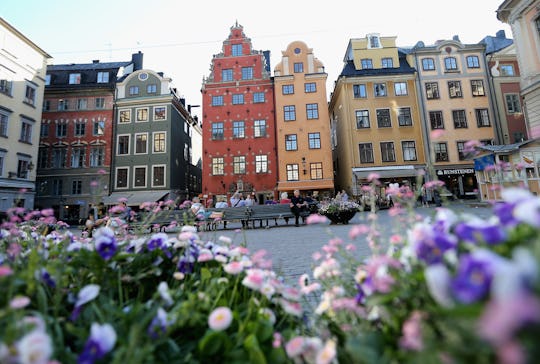 Chris Jackson/Getty Images Entertainment/Getty Images
The Stockholm Truck Crash Indicates Terrorism
A truck crash in a busy shopping district in Stockholm, Sweden, Friday afternoon has left multiple people dead, according to The Telegraph. Per reports, pedestrians at the Ahlens mall were hit when a truck drove into the crowd, and then crashed into a department store. The news may leave some people wondering: was the Stockholm truck crash terrorism? According to the Associated Press, and the Swedish Prime Minister, it could be. Prime Minister Stefan Lofven said shortly after the crash that everything seemed to indicate "a terror attack" and that police would be treating the investigation as such.
According to international news site The Local, the truck in question was thought to have been hijacked earlier in the day from Swedish brewery company Spendrups, when an unidentified man had jumped into the cab and drove off during a delivery. At around 3:00 p.m. local time, emergency services were notified that the truck had crashed into a department store, with unconfirmed reports that three people may have been killed at the scene. Police have reportedly also said that shots had been fired in the area, though details have yet to be officially confirmed. According to The Independent, a witness told reporters:
I went to the main street when a big truck came out of nowhere. I could not see if anyone was driving it but it got out of control. I saw at least two being run over. I ran as fast as I could from there.
A suspect has reportedly been apprehended in connection to the attack, according to The Telegraph, though no further details have been released. While a further investigation is necessary to determine the motive for the attack, Friday's truck crash appears to mirror similar terrorist attacks in 2016, involving truck crashes at a busy Bastille day celebration in Nice, and a Christmas market in Berlin. It also follows the deadly terrorist attack in London two weeks ago, where five people were killed after a man ran over pedestrians on Westminster Bridge.
According to The Guardian, most of the city was placed on lockdown following the incident, and train stations were evacuated. Police have also warned people to avoid the downtown area in Stockholm. The attack is said to have taken place on one of the country's most busy streets for pedestrians, and hundreds of people were reported to have fled the scene.
The last known terrorist attack in Sweden happened in 2010, when an Iraqi-born Swedish citizen set off two bombs in Drottninggatan, the same area of the city where Friday's truck crash occurred. According to BBC News, the bomber first detonated a car bomb, and then killed himself by detonating an additional bomb he had been carrying. Although officials believe he was intending to launch a large and very deadly attack, it's thought that the second bomb may have detonated prematurely, as only the bomber was killed in the attempted terrorist attack.