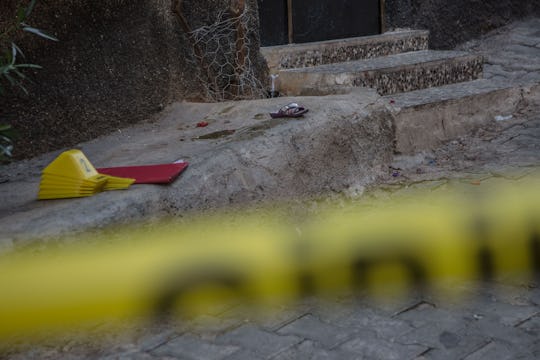 AHMED DEEP/AFP/Getty Images
Was The Turkey Bombing A Work Of ISIS? Turkey's President Has Declared So
From bombings in the Turkey airport to yesterday's most recent tragedy, it seems as if Turkey simply cannot catch a break from the mayhem. And yet, on Saturday night, another large bombing in Turkey killed dozens and harmed many more. The headlines are tragic and the impact of the bombings even worse. As details emerge from the incident, people are beginning to wonder whether the Turkey bombing was the work of ISIS — and for his part, it seems Turkey's president believes that to be the case.
The attack itself was alarming enough, but the location of the attack is one where no one would normally suspect a bombing to take place (or at least would hope it wouldn't) — at a wedding. According to the Associated Press, the bomb targeted an outdoor wedding party in southeastern Turkey killing at least 51 people and, according to CBS News, wounding 94 others. According to the AP, this is the deadliest attack in Turkey this year. Turkish Prime Minister Binali Yildirim spoke out against the attack, not knowing which group was to blame for the bombing:
No matter what this treacherous terror organization is called, we as the people, the state, and the government will pursue our determined struggle against it.
But as of Sunday morning, Turkey's president is blaming ISIS for the bombing. However, according to CNN, no group has yet claimed responsibility for the attack. This attack also comes on the heels of a failed coup in Turkey back in mid-July.
According to the BBC, the bomber that caused the attacks was a suicide bomber between the ages of 12 and 14. Reportedly, the bomber targeted the wedding guests as they danced in the street.
According to reporter Naziım Daştan, a local journalist who was on the scene, the bombing was the clear work of ISIS. Daştan told The Guardian:
There were so many dead people. There were body parts. A wedding is really the last place that one would expect an attack on — it's horrifying. It seems clear that this was yet another ISIS attack in Gaziantep.
According to CNN, the attack targeted a Kurdish wedding party in a Kurdish neighborhood — and there could have been "a number of reasons" for ISIS to target Kurdish people. According to Newsweek, ISIS has been to blame for other attacks in Turkey, which often target Kurdish gatherings.
Turkish President Tayvip Erdogan described the bombing as "heinous." According to CBS News, Erdogan said:
These bloodthirsty organizations and the powers behind them have neither the will nor the power to silence the calls to prayer, lower the flag, divide our motherland, and break up our nation.
This latest bombing in Turkey is truly only adds to the ever-growing list of headline-grabbing attacks to hit the country continue in 2016.