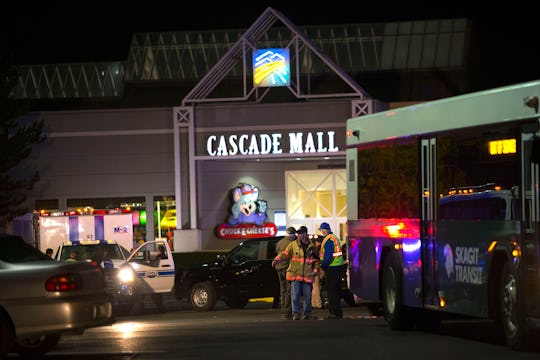 Karen Ducey/Getty Images News/Getty Images
Was The Washington Mall Shooting Terrorism? The Alleged Shooter's Motives Were Unclear
Tragedy struck the state of Washington on Friday night as gun fire broke out at a shopping mall in the town of Burlington. The acts were senseless, heartbreaking, and seemingly unjustified — it is hard to believe who would want to kill innocent shoppers, most of whom were just looking for something to do on a Friday night. With tensions high across the nation, its an easy question to ask whether or not the Washington mall shooting was terrorism, but the answer might be hazy.
According to CNN, four women and one man died after the shooting occurred at a Macy's department store in the Cascade Mall at 7 p.m. local time. For 24 hours following the incident, a man hunt continued, with police eventually apprehending the suspect on Saturday night. The alleged shooter, Arcan Cetin, was not armed at the time of his arrest and reportedly cooperated with authorities. The shooter now remains in police custody. But as of Sunday morning, according to CNN, the motives for the shooting still remain unclear.
According to authorities, much of the details and timeline of the night have yet to be released. Therefore, it is easy to assume that the alleged shooter's motive — why he would seemingly choose to kill innocent people — is not yet known. CNN reported that state authorities have said that it is "too early to rule out terrorism or any other motive" because the investigation is still in its preliminary stages.
ABC News reported on Saturday morning that FBI agents had told the press they had "no indication" that the shooting was an act of terrorism. However, according to CNN, that was said prior to the suspect's arrest. There is so much that authorities and the public do not know about the shooting — all we have are some grainy surveillance photos of Cetin dressed in black shorts and a black t-shirt entering the Macy's and the facts that witnesses and authorities have stated — and now with the suspect in custody, further details are bound to spill out. As the weeks go by and pieces of the puzzle are put together, authorities will have a stronger idea as to whether or not the senseless act was terror related, or as some have reported, related to a relationship that had soured.
Just one week ago, in a mall in Minnesota, one person stabbed nine people before being shot dead by an off-duty police officer, according to police. According to CNN, an ISIS-linked news agency later claimed responsibility for the attack. Due to its proximity in date and venue, it is understandable why some people would assume that the Washington mall shooting is related to terrorism as well. One search for "Washington mall terrorism" on Twitter shows that many believe, regardless of what authorities say, that the Washington mall shooting too was an act of terror. But for now, police continue to keep all avenues open.