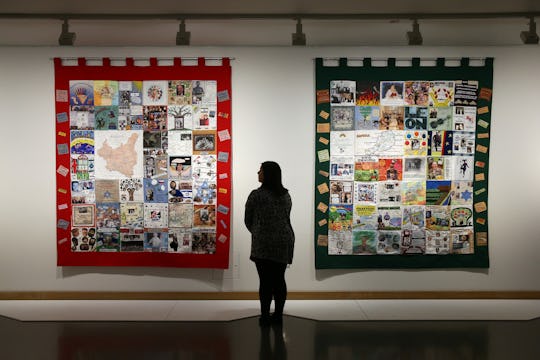 Carl Court/Getty Images News/Getty Images
Threat At Jewish Children's Museum Is One Of Many
The last few weeks have seen an increasing number of threats made to Jewish organizations across the country. On Thursday, the Jewish Children's Museum in Brooklyn, New York became the latest cultural center to receive a bomb threat. But was there a bomb at the Jewish Children's Museum in New York City? Police officials said no explosives were found, but they did confirm a threat was made Thursday morning.
According to DNAinfo, administrators at the Jewish Children's Museum received an email at about 9:15 a.m. Thursday that claimed three pipe bombs planted inside the center would explode. The NYPD evacuated everyone from the building and barred people from entering as officers inspected the museum. Police reopened the Jewish Children's Museum to the public after four hours of searching because they did not find any explosive devices, the online news site reported.
When asked about the bomb threat, David Shalom, the editor of the Jewish Children's Museum's children's magazine, told DNAinfo that he couldn't enter the building when he got to work. He continued,
It's concerning. You have to have faith in the almighty God. Nobody wants to live in fear. ... There's a big target. Thousands of Jews come here all the time.
This is the second bomb threat this week that had been made to a Jewish organization in New York City. Two days early, the Anti-Defamation League's office in Midtown Manhattan received a bomb threat, according to ABC News. The ADL also reported threats to its offices in Boston, Atlanta, Washington, D.C., Florida, and Maryland.
The threat to the ADL headquarters was one of more than two dozen made nationwide between Monday and Tuesday, ABC News reported. Police officials said two Jewish community centers in upstate New York were also evacuated and shut down after bomb threats were phoned in. Jewish organizations in Oregon, Wisconsin, Rhode Island, and Illinois also received threats this week. Last Monday, at least 20 bombs threats to Jewish groups were made, according to NBC News. Federal officials told BuzzFeed News that multiple FBI units are looking into the wave of bomb threats made to Jewish schools and community centers since the beginning of January, which total about 100 in more than 30 states and two provinces in Canada.
Hate crimes have skyrocketed since Donald Trump was elected president in November. California State University's Center for the Study of Hate and Extremism reported a double-digit rise in bias-related attacks in at least six major cities, according to Voice of America, New York City, where the Jewish Children's Museum is based, saw a 24 percent uptick in hate crimes, while New York state saw a 20 percent increase.