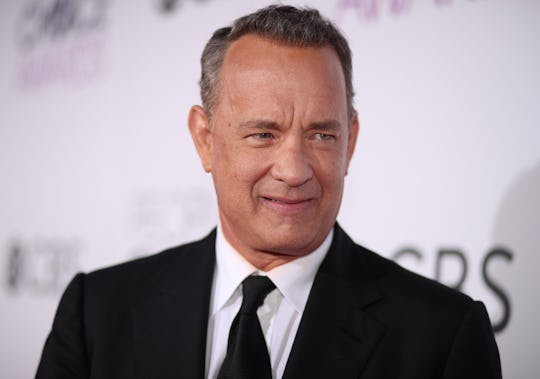 Christopher Polk/Getty Images Entertainment/Getty Images
What's Going On With Tom Hanks' Oscar Nom?
The 2017 Oscar nominations are finally here, but it seems there may have been a bit of a mix up when it comes to the official list. Was Tom Hanks nominated for a 2017 Oscar or did he get snubbed? The Oscar nominations were announced on Tuesday morning and while there were many great actors nominated for a leading role, Hanks wasn't on that list. However, on the Academy's website it said, at one point, that he was in fact nominated for the Oscar for his role in Sully. So what is the truth? Romper has reached out to the Academy for comment, but did not hear back at the time of publication.
The Academy's website has since taken down Hanks' name, but what caused the mix up in the first place? Was Hanks supposed to me nominated, but then there was a last minute change? Was he a runner-up for a nomination and then they realized they had too many nominees and he had to go? Or did a fan of Hanks really just want to see his name up there as a nominee and decided to hack the site and add his name? There are so many questions and yet no real answers.
Many critics were conflicted on whether or not Hanks would get the Oscar nom for his role as Captain Sully. There were many that were surprised and disappointed to see him get snubbed, while others weren't all that shocked at all. If Hanks had gotten the nomination this would've been his first since he was nominated for the leading role in Cast Away back in 2001 and his sixth nomination overall. So far, Hanks has won two Oscars for his leading roles in Philadelphia and Forrest Gump.
Unfortunately, it truly seems this year just isn't the year for Hanks. Thankfully, the actor is still performing at the top of his game and he still has more chances to get another nomination eventually. This year he'll be starring alongside Emma Watson in a new dystopian film titled The Circle, and later in 2019 he'll be returning to his animated roots to reprise his role as Woody in Toy Story 4. While I highly doubt he won't be getting a Oscar nom for Woody, I know I'll be happy to see him in that role.
So even though it appears Hanks didn't get nominated after all, it doesn't change the fact that he's a great actor and one day the Academy will be forced to recognize his greatness yet again.