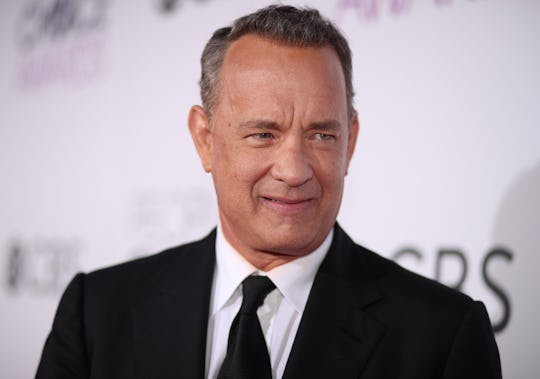 Christopher Polk/Getty Images Entertainment/Getty Images
Hanks Didn't Get That Oscar Nom Like Fans Hoped
The nominations for the 89th Academy Awards were announced Tuesday morning. While film fans are always anxious to hear who has a shot at taking an Oscar home, even more are interested in who will be missing out. So, was Tom Hanks snubbed by the Oscars? Well, he's not going to be taking home a golden man for his performance in Sully, unfortunately.
Hanks played Captain Chelsey Burnette "Sully" Sullenberger, the incredible pilot who safely landed a disabled plane on the Hudson River and saving all 155 people on board. The unbelievable 2009 moment of heroics has been dubbed "Miracle on the Hudson." Hanks did what he usually does when telling a story on the silver screen: embodied the heroics, surprisingly calm, and relatable human characteristics of a man who did something so seemingly super-human. The Academy must have assumed Hanks would have been nominated, too, as they even had his name listed under Leading Actor nominees for, well, a minute. (Romper reached out to The Academy for comment but did not hear back at the time of publication.)
Still, the so-called Oscar "snub" didn't come as a surprise or shock to any fans who were paying attention, even if his name was on the website for a few moments before finally being replaced with the correct list of 2017 nominees. The Golden Globes are usually a prequel to the Academy Awards and, well, Hanks didn't receive a nomination for the 2017 Golden Globes, either. Not that he is particularly (probably) upset, as Hanks has eight Golden Globe nominations and four wins under his belt.
Hanks is no stranger to the Oscars, so while it's impossible to say how he is feeling after the 2017 nominees were announced (and while I would assume any and all artists would want to be celebrated for their craft) I'm sure this is just another Tuesday. Hanks has been nominated for an Academy Award five times, taking the golden statue home twice: once for his performance in Forrest Gump in 1995, and once for his performance in Philadelphia in 1994. He was also nominated for his work in Saving Private Ryan, Cast Away, and Big.
While the snub may not have been much of a surprise, that doesn't mean fans of Hanks, or Sully, weren't disappointed. A few took to twitter to voice their frustration (and, OK, sometimes their hilarious slights) in 140 characters or less. Here are just a few of their reactions:
A 2017 nominee or not, no one can take away the work Tom Hanks does. Whether you enjoyed the movie Sully, or it just wasn't really your thing and you're happy Hanks wasn't nominated, one thing is for sure: he's probably polishing all of his awards right now, without a care in the world.