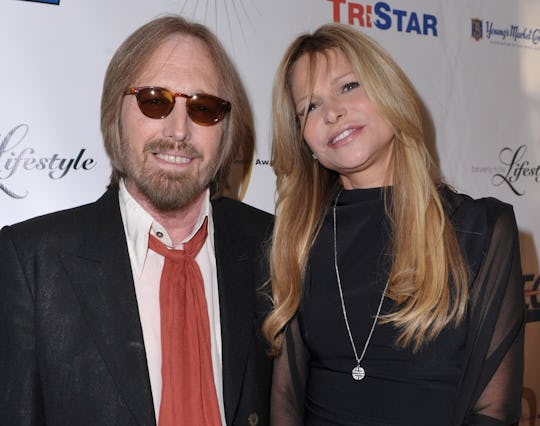 Alberto E. Rodriguez/Getty Images Entertainment/Getty Images
Was Tom Petty Married? The Rock Icon Has Died At 66
After reports surfaced Monday afternoon that he was found unconscious in his home on Sunday, the devastating news surfaced that 66-year-old Tom Petty was in critical condition at UCLA Santa Monica Hospital. Romper has reached out to Petty's representatives for comment but has not heard back at this time. Known primarily for his music, with hits like "Won't Back Down" and "Free Fallin'," Petty kept his personal life pretty private throughout his decades-long career. But, now, looking back on his life, was Tom Petty ever married?
Update: According to CNN, Tom Petty has died, after being placed on life support. TMZ originally reported that the musician had not died, despite reports, and was "clinging to life" earlier Monday night.
Update: Despite reports, Tom Petty has not passed away. According to TMZ, Petty is "clinging to life" but "is not expected to live throughout the day." In a tweet, the LAPD states it has no information about the passing of singer Tom Petty. We will update when there is more news about Petty's condition.
Earlier: He has two children with his former wife, Jane Benyo: Adria Petty, 42, and Kimberly Violette Petty, 35. After 22 years of marriage, the couple divorced in 1996. Petty married Dana York in 2001 and have been together until his hospitalization. The couple never had children with one another, but York also has a child from a previous marriage. They'd met one another at one of his concerts a decade before tying the knot, but didn't officially date until after York's split from her first husband.
"Tom and Dana both felt as though they had known each other their entire lives and were fast falling in love," The Daily Mail explained, summarizing the 2015 release of Petty: The Biography. The couple's subsequent "no-thrills" wedding was officiated by Little Richard and was a "low-key," "intimate, celebrity-free gathering," the Chicago Tribune reported at the time. Family and bandmates celebrated the union, which took place one week after their initial union in Las Vegas. After a couple of sold out concerts at the Hard Rock Hotel, the two "[got] the legal stuff out of the way," Petty explained to People.
Petty engaged in heavy drug use in the 90s, specifically abusing heroin. In Petty: The Biography, he explained that, in doing the drug, "you start losing your soul." Quitting wasn't easy, and Petty used the book as a platform to warn others against heroin's unrelenting grip. York helped Petty leave his drug days behind, as her own father reportedly struggled with addiction himself. Petty has publicly thanked her for "saving" him. In addition to being a father, Petty is a grandfather, too. In reflecting on his so-called "last big" tour, which concluded in California last week, according to HuffPost, he shared:
I have a granddaughter now I'd like to see as much as I can. I don't want to spend my life on the road. This tour will take me away for four months. With a little kid, that's a lot of time.
"I think any time you're making a living at what you love to do, you're blessed," Petty explained to Parade in 2010. "That's what I try to instill in my kids. Go after what you really love and find a way to make that work for you, and then you'll be a happy person." In playing alongside fellow legends Bob Dylan, Johnny Cash, George Harrison, and Stevie Nicks, Petty has been absolutely blessed, as were those able to receive the gift of his music. At the time of the Parade feature, Petty showed no signs of stopping. "I just make records. That's what I do," he explained, displaying how music is his "makeup."
The rockstar lived a life of love, and fans will adore his songs, records, and albums for years to come. From "American Girl" to "Breakdown," Petty's classics are pure rock and roll history — something his wife is undoubtedly proud to have been a part of.
Watch Romper's new video series, Romper's Doula Diaries:
Check out the entire Romper's Doula Diaries series and other videos on Facebook and the Bustle app across Apple TV, Roku, and Amazon Fire TV.