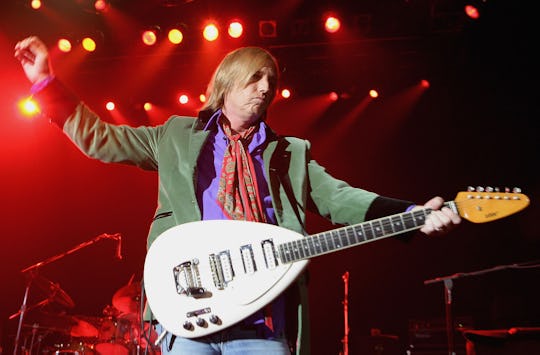 Ethan Miller/Getty Images Entertainment/Getty Images
Tom Petty Has Reportedly Been Rushed To The Hospital After Full Cardiac Arrest
Rocker Tom Petty — frontman of Tom Petty and the Heartbreakers — was found unconscious and not breathing on Sunday night, CBS News confirmed on Monday afternoon. The legendary singer had reportedly suffered a full cardiac arrest at his Malibu home, where he was found. According to TMZ, he was taken to UCLA Santa Monica Hospital and placed on life support. But, was Tom Petty sick leading up to his hospitalization?
Update: According to CNN, Tom Petty has died, after being placed on life support. TMZ originally reported that the musician had not died, despite reports, and was "clinging to life" earlier Monday night.
Earlier: Despite reports, Tom Petty has not passed away. According to TMZ, Petty is "clinging to life" but "is not expected to live throughout the day." In a tweet, the LAPD states it has no information about the passing of singer Tom Petty. We will update when there is more news about Petty's condition.
According to TMZ, EMTs were able to get a pulse at the star's Malibu home and he was later placed on life support at the hospital. A chaplain reportedly was called to his hospital room at approximately 10:30 a.m. local time, and the family has a DNR (do not resuscitate) order for him, according to the outlet.
Although there are currently no details about the state of the musicians' health prior to his cardiac arrest, Petty, 66, had just wrapped up a tour that ended at the Hollywood Bowl last Monday, according to CBS News.
Back in December, Petty had speculated this his most recent tour would probably be his last big one with the band. "It's very likely we'll keep playing, but will we take on 50 shows in one tour? I don't think so. I'd be lying if I didn't say I was thinking this might be the last big one," he told Rolling Stone, adding:
We're all on the backside of our sixties. I have a granddaughter now I'd like to see as much as I can. I don't want to spend my life on the road. This tour will take me away for four months. With a little kid, that's a lot of time.
The musician has two daughters from his first marriage to Jane Benyo, along with a stepson from his second marriage to Dana York. So it makes perfect sense that Petty wanted to slow down from his rockstar life to focus on time with family. His daughter, Adria is 42 and a video director, while Annakim is a 34-year-old artist. His stepson, Dylan, is 24 and from York's previous marriage.
The rockstar rose to fame with Tom Petty and the Heartbreakers back in 1978 with "Breakdown." Among the band's other top hits were "American Girl," "Stop Draggin' My Heart Around," and "Listen to Her Heart." And of course, we'll never forget his iconic hit, "Freefallin'." In total, he released three solo albums and 13 albums with Tom Petty and the Heartbreakers.
Petty, who originated from Gainesville, Florida, knew he wanted to become a musician since age 13 — after seeing The Beatles play on "The Ed Sullivan Show."
"This was the great moment in my life, really, that changed everything. I had been a fan up to that point. But this was the thing that made me want to play music," he told Grammy.com. "It did have a great profound effect on my life, and I thank them for that. I still think the Beatles [made] the best music ever, and I'm sure I'll go to my grave thinking the same thing."
Although it was originally reported by several news outlets that Petty had passed away on Monday afternoon, the rock legend is reportedly still hanging on. Fans took to Twitter to share their frustration with the roller coaster of news reports.
Some even tried to lighten the mood, despite the tragic news.
But Stephen King probably summed it up the best.
While Petty's countless fans are desperate for details about his current condition, it's important to remember that his family, friends, and bandmates are trying to navigate themselves through an impossibly heartbreaking time. And whatever happens in the coming hours and days, it's crystal clear how many lives Petty has touched over his multi-generational career.
Watch Romper's new video series, Romper's Doula Diaries:
Check out the entire Romper's Doula Diaries series and other videos on Facebook and the Bustle app across Apple TV, Roku, and Amazon Fire TV.