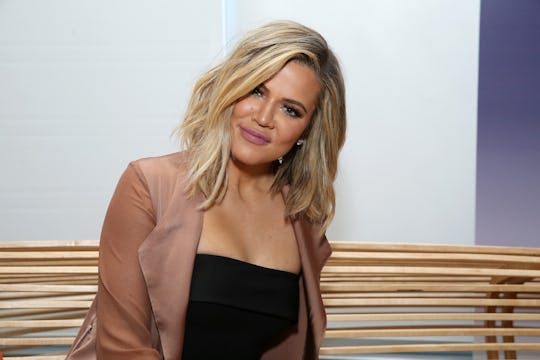 Cindy Ord/Getty Images Entertainment/Getty Images
Was He, Or Wasn't He? Here's Where Tristan Thompson Was When His Daughter Was Born
Well, it's official: Khloé Kardashian is a mom. TMZ broke the news around noon on Thursday, April 12, that Kardashian gave birth to a baby girl in a hospital outside of Cleveland, Ohio. But the joyous news came in the wake of some less-than-pleasant reveals; Kardashian's boyfriend and the father of her child, Tristan Thompson, was caught allegedly cheating on Kardashian when she was just three months pregnant, and was seen entering a hotel room with a woman a mere five days before his daughter was born. So, was Tristan Thompson there when Khloe gave birth? Initial reports show that, yes, the birth of a baby can really bring people together.
According to TMZ, Kourtney, Kim, Kris, and Khloé best friend, Malika, were all by her side during the birth of her daughter. And, yes, it's reported that Thompson was in the delivery room, too. In fact, Fox News reported that Kardashian was willing to allow Thompson into the delivery room prior to the birth of their daughter, and despite the recent footage that surfaced, showing Thompson kissing two women in a club, and entering a hotel with a woman in New York City. Romper's requests for comment from both Thompson and Kardashian's team were not immediately returned.
TMZ reported that "sources close to the Kardashian family" told the outlet that Kardashian was "devastated about the recent cheating reports" and went "ballistic" when she discovered the news. Still, according to TMZ, she did not want "to deny Thompson the life experience of welcoming a child into the world."
In case you're wondering just how strong women are, well, you have your answer.
Little is known about Kardashian and Thompson's daughter, including her height, weight, length, and even her name. But what is known, and perhaps even devastating, is that her birth is being slightly overshadowed by the alleged actions of her father. Every announcement of Kardashian's birth — from TMZ to People to CNN — included the cheating allegations. If Kardashian ever wants to go back and read the coverage of her daughter's entrance into this world, she is also going to have to read about the alleged cheating; a truly heartbreaking realization, considering Kardashian has been open about her longtime wish to become a mother, and the fertility struggles she faced with her ex-husband, Lamar Odom.
This is Kardashian's first child, but Thompson's second. He also has a son with his ex-girlfriend, Jordan Craig, who he also left while she was pregnant. The details of his former relationship have also resurfaced among the allegations now levied against him, and, sadly, some fans are blaming Kardashian for Thompson's behavior. "So Tristan Thompson cheated on a pregnant Khloe [sic] Kardashian... Didn't he also cheat on a pregnant ex WITH Khloe [sic]? Oh, hey karma," wrote one Twitter user. "Tristan Thompson cheated on Khloe Kardashian [sic] while pregnant with his child, when he cheated on his pregnant ex with Khloe Kardashian [sic]. What a world. Y'all still don't believe in karma" wrote another.
But the finger pointing and blame game playing and unnecessary assumptions did not, and never will, change an undeniable fact: Khloé was pregnant when these allegations surfaced. She was facing the inevitable: birth and motherhood. She could either focus on what was to come, or she could push it aside to deal with cheating allegations and relationship issues and do what people "thought" she should do.
And it seems, when push came to literal push, Khloé decided to focus on her family, flaws and all. According to the aforementioned reports she wasn't going to deprive her significant other of witnessing something truly miraculous, regardless of his alleged actions. She was a mom, he was a dad, and, together, they're parents to a healthy baby girl. For now, at least, that is all that matters.