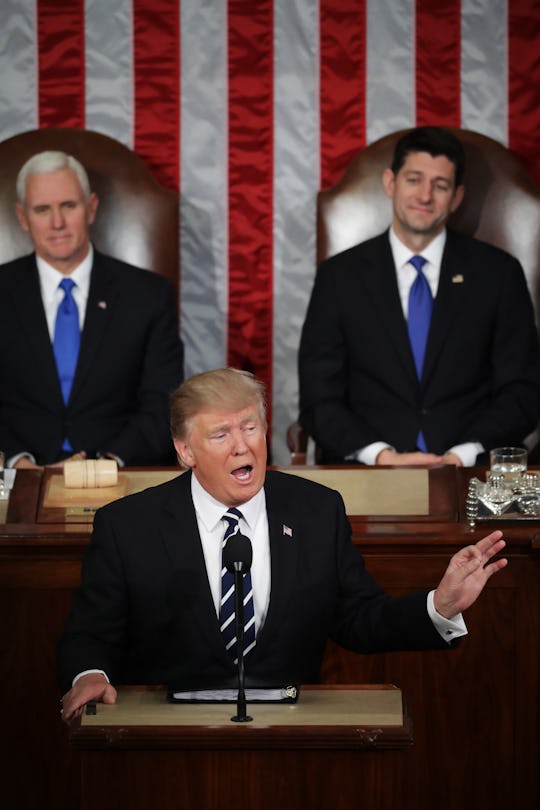 Chip Somodevilla/Getty Images News/Getty Images
Trump's Joint Address Twitter Numbers Scrutinized
Known for his ability to go viral on Twitter, President Donald Trump's congressional address on Tuesday night appeared to have a similar reach. But was Trump's joint address really the most-tweeted of all time? Twitter's official politics and campaign data account @Gov deemed the event "the most Tweeted #SOTU or #JointSession address ever," but it appears that those statistics might be skewed. (In boasting 3 million tweets, the speech appeared to outpace President Barack Obama's 2015 State of the Union address, the closest runner-up.)
Politico reported "decidedly inorganic traffic," on the night of the address, "including [traffic] from some accounts that had never tweeted about any other topic." "Bot" accounts, then, are likely to thank (or blame) for the inflated numbers. Politico found this connection in an examination of the sources for a large portion of where certain #JointSession tweets were coming from. For example, a conservative non-profit tweeted out a twitter card containing the event's hashtag, which received a profound response, despite few likes or retweets on the original post itself. Responses to this particular poll accounted for "3 percent of a sample of 25,000 tweets containing the #JointAddress hashtag as the speech started," Tech site Voactiv shares, with many shares coming from accounts fit "with egg profile photos and a suspicious lack of activity aside from tweets about the poll." Suspicious indeed.
Vocativ asserts, then, that a "bot-less count of tweets sent during his joint address may well not break any records," while bearing in mind that Obama's "previous record didn't have a significant bot interference, either." All in all, the numbers just might not be very accurate, as they don't factor out "fake" accounts.
Unsurprisingly, Trump was the most tweeted-about person of the night, followed by House Speaker Paul Ryan and Carryn Owens — the widow of Navy SEAL William "Ryan" Owens, who was killed in Yemen last month. Her presence has been widely referred to as the "emotional high point" of Trump's speech, with the president honoring Owens' legacy and crowds responding with a standing ovation. Trump's top tweet of the evening was a call to repeal and replace the Affordable Care Act.
Regardless of what portion of the tweets were legitimate, it's important to note, too, that a frequency of tweets does not suggest either positive nor negative sentiment. Though many are touting the numbers as measures of support for the address, the statistics include any mention of the Joint Session; Engaging in discussions about the speech are by no mean endorsements. Still, the prevalence of bots shouldn't be ignored. In a political administration that's so Twitter-focused, online legitimacy should be upheld with ultimate scrutiny.