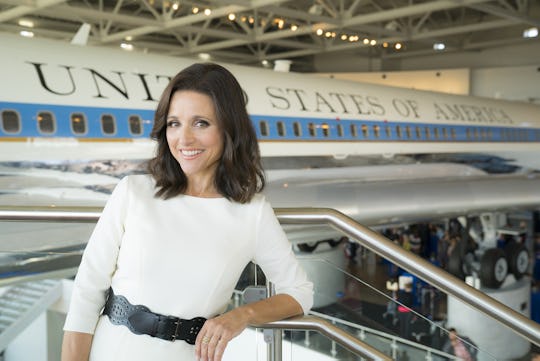 Justin M. Lubin/HBO
'Veep' Will Receive Very Little Love At The 2018 Golden Globes
The nominees for the Golden Globes were announced on Monday morning, but one beloved show, a show that dominates the Emmys every year, seemed notably absent from the nominees. Was Veep snubbed for the 2018 Golden Globes? The political comedy may have ruled the Emmy Awards, but apparently that's not enough to win the gold this time around. In the categories, in which Veep is generally expected to shine, such as Best Comedy and Best Actress in a Comedy, Veep was somehow left out. I know that these guys win every year, but don't they deserve it?
The nominations for Best Comedy Series included Black-ish, The Marvelous Mrs. Maisel, Master of None, SMILF, and Will & Grace. While all of these shows are fantastic and well-deserving (though I confess I've never seen SMILF), Veep is consistently one of the smartest and most hilarious comedies on TV. For the 2017 Emmys, Veep took home the award for Outstanding Comedy Series a third year in a row. Sure Will & Grace wasn't out and therefore not yet eligible for this category but was it really so good it managed to edge out Veep? Furthermore, none of Veep's incredibly talented actors got a nomination either, which is just wrong.
Julia Louis-Dreyfus, who stars as the ruthless Vice President-turned-part-term-President Selina Meyer on Veep, is the greatest thing to happen to television since Lucille Ball. This fact is reflected in her 24 Emmy nominations and 11 wins, as well as 9 Golden Globe nominations, including one for almost every year Veep has been on television. This year, however, the nominations include Pamela Adlon, Alison Brie, Rachel Brosnahan, Issa Rae, Frankie Shaw. All of these women are incredible and talented (I'm particularly jazzed about long-time Emmy snub Issa Rae), but have the Golden Globes no respect for their benevolent overlord, the Queen of Television Comedy herself?
Generally the nominations for these awards are fairly easy to predict, since they'll generally be the ones to get the most press. However, there are always a few surprises and a few snubs along the way. While Veep, being among the most prestigious and awarded comedies in the category is perhaps the biggest surprise snub, a few other shows that probably should have been recognized in this category were also left out. These include the beloved and highly rated The Good Place, Insecure, and The Unbreakable Kimmy Schmidt. I know that the Golden Globe Awards don't necessarily reflect the best of the best and sometimes deserving shows can be overlooked. But it feels rather pointed that long-time heavyweight Veep would fail to get even a nod of acknowledgement. Thanks to its usual Emmy-sweeps, Veep was widely predicted to take home at least a few Golden Globe nominations. Honestly, I'm just confused.
Although Veep was snubbed for the biggest and most important awards at the Golden Globes that doesn't mean it won't still get a few nominations in the smaller categories that tend to get less attention. For example, Veep has won Emmy awards for things like casting, guest stars, directing, and writing in the past. Perhaps the show will still get a deserved accolade in one of the less visible categories.
On the other hand, while the Golden Globe Awards are a big deal, they are arguably less of a big deal than the Academy Awards or the Emmy Awards. While it would be nice for my personal favorite show to win big at the Golden Globes again, maybe we'll all just have to be content with this show ruling the Emmys. I think I'm OK with that.
Check out Romper's new video series, Romper's Doula Diaries:
Watch full episodes of Romper's Doula Diaries on Facebook Watch.