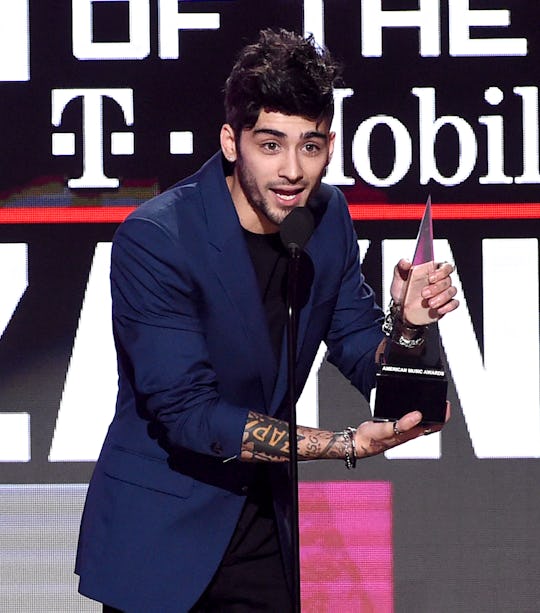 Kevin Winter/Getty Images Entertainment/Getty Images
Was Zayn Nominated For A 2017 Grammy? He's No Stranger To Success
The award season kicks off with the Grammy Awards nominations, giving us all something to look forward to as 2016 comes to a close. Meghan Trainor made the announcement Tuesday morning on CBS This Morning, answering so many fans' questions, like "Was Zayn nominated for a 2017 Grammy?" Zayn Malik, the former One Direction band member, is no stranger to success. Sadly, he will continue to be a stranger to Grammys success. The "Pillow Talk" singer was unable to snag any 2017 Grammy Nominations.
In a way, Malik's absence from the 2017 Grammys wasn't all that surprising. It was reported leading up to the Grammys nominations that Malik would be ineligible for the coveted Best New Artist category. According to the rules, the Mind of Mine artist doesn't qualify as a "new artist," because of his time as a One Direction member. Bill Freimuth, senior vice president of awards at the Recording Academy, said, "This was actually pretty clear cut given the international success of One Direction. It's been a few years since Zayn Malik came to prominence as a member of that group, making him ineligible for the best new artist category this year."
Malik's solo-debut album Mind of Mine was poised to possibly nab a nomination, given the success of singles like "Pillowtalk" and "Like I Would." Sadly, however, other artists like Beyoncé and Adele ran the Grammys board, securing numerous nominations in coveted categories like Record Of The Year and Album Of The Year. In other words, Zayn shouldn't feel all that bad about missing out on that beautiful Grammys gold. After all, it's Beyoncé and Adele, for goodness sakes. There's no winning, my friends.
Zayn's loyal fans, however, were not impressed, and seemed to care less who was up for Grammys. Here are just a few of the responses to Zayn's Grammys snubbing.
The wildly successful British boy band One Direction never snagged a Grammys nomination either, so this isn't the first time Malik has missed out. Perhaps, as I'm sure Malik is thinking at this very moment, there's always next year. Until then, you can rest easily, knowing that Zayn is still enjoying an incredible amount of great (and sure to be continued) success, a very publicized relationship with Victoria Angel and successful model Gigi Hadid, and whatever else comes along with being an international sensation.
In other words, Malik is going to be just fine.