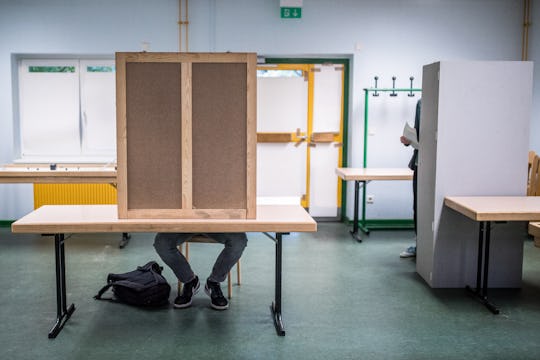 Maja Hitij/Getty Images News/Getty Images
Washington D.C. Might Allow 16-Year-Olds To Vote In The 2020 Election, & Twitter Is Divided
The capital may lower the voting age for federal and local elections, which means that, 16-year-olds in Washington D.C. could possibly vote in the 2020 election, according to USA Today. The legislation was introduced on Tuesday, April 10, and it would be the first time the voting age has changed since The Vietnam War four decades ago. Students in 1971 protested because they thought it was unfair that 18-year-olds could be drafted and sent to war, but they couldn't vote. As a result, Congress passed the 26th Amendment. Today, the case isn't so different, as even younger student activists are marching for social change across the country but their voices aren't heard in the polls. It's just that this time there's Twitter to respond — and Twitter users seem to have some seriously mixed feelings.
Council member Charles Allen, a Democrat representing the 6th Ward, said he was inspired by the high schoolers who came to D.C. to protest at the March for Our Lives rally, according to USA Today. And advocates of the measure have said that they have the support of a majority of D.C. Council members, WUSA9 reported. So far, seven of 13 D.C. Council members support the legislation.
This isn't the first time younger teens would have the chance to vote, so it's not a totally foreign concept. In 2013, Takoma Park, Maryland allowed 16- and 17-year-olds to vote in local elections, and cities like Berkeley, California also broadened the voting age to include younger teens, according to The Washington Post. That said, these voting rights were only extended to teens for municipal elections. The District of Columbia is often treated like a state and can, therefore, change the voting age to allow 16- and 17-year-olds to vote for the next president of the United States, too.
"I think people are getting excited about this, especially with what's going on in the nation right now in terms of youth leading social change," 18-year-old senior at School Without Walls, Alisha Chopra, told USA Today. She said that she anticipates a lot of people getting on board with the plan to let 16- and 17-year-olds vote, too.
And, in response to some people's fears about lowering the voting age, Alex Shyer, a 16-year-old Sophomore at Woodrow Wilson High School, told USA Today that those her age can certainly handle the responsibility that comes with voting.
"We work, we pay taxes, we care for family members, we can drive, we can do so many other things. So, adding voting onto that isn't going to be that big of a responsibility," she told USA Today.
But, to no surprise, Twitter is divided: There are those who think it's a genius idea, and those who think it's a desperate idea. Those who think it's at least a decent idea have largely said that they're inspired by the young activists fighting for social change — and many of them don't think it could be any worse than ill-informed adults voting.
Those who think it's a poor idea, however, have called the move to lower the voting age a Democratic ploy to for liberal parents to influence their kids and encourage more Democratic votes. And that kids who are, well, snorting condoms in viral videos shouldn't be voting for president...
As the nation delves into the emerging political power of the generation following millennials, I'm sure a lot of us are thinking back to what we were like when we were 16 years old. I'm thinking: Could I have confidently voted?
I identified as a Republican when I was 16 because my family did. That's a crazy thought now that I'm... very much not a Republican. I didn't even really quite understand what it meant to be a Republican or a Democrat then, which is the argument many have against lowering the voting age. But if I'd been dealing with political issues as closely as 16-year-olds today are dealing with political issues, I'd bet my bottom dollar that I'd have become the informed activist I eventually grew into — I just may have become that person much earlier. The fact is that 16-year-olds today aren't the 16-year-old I was a decade ago.
While I (and maybe you, too) still mull this one over, times are changing, and voting rights may now be changing with 'em.