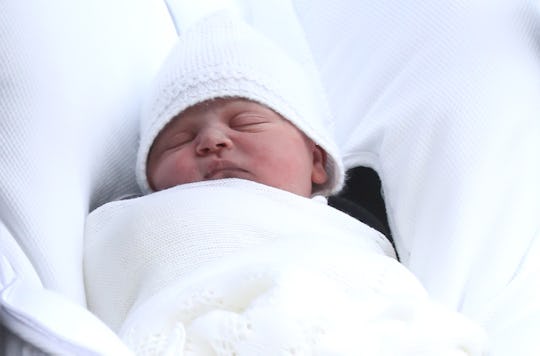 Chris Jackson/Getty Images Entertainment/Getty Images
This Video Of Prince Louis Sound Asleep At His Christening Will Melt You
You might want to sit down for this one, royal fans. In an adorable turn of events on Monday, July 9, Kensington Palace released footage of a sleeping Prince Louis arriving at his christening. The best part? The tired newborn was accompanied by members of the royal family, including his uncle, Prince Harry, Duke of Sussex, and Meghan Markle, Duchess of Sussex. Talk about a grand entrance.
Kensington Palace does a phenomenal job of keeping the public in the loop where it concerns the royal family. Case in point: Kensington Palace's Instagram account uploaded a precious video of a sleeping Prince Louis arriving at Chapel Royal, St James's Palace, for his highly-anticipated christening. While Kensington Palace was under no obligation to share this sweet moment with fans, it's wonderful they decided to make it public. Many people want to celebrate this special day, after all, and this video gives them the opportunity to do so.
As for a play by play of what the footage shows, it starts off with Prince Louis' grandfather, Prince Charles, Prince Of Wales, and his wife, Camilla, Duchess of Cornwall, walking up to Justin Welby, the Archbishop of Canterbury. Following behind Prince Charles and Camilla are Prince Louis' parents, Prince William, Duke of Cambridge and Catherine, Duchess of Cambridge. Prince Louis is fast asleep in Kate's arms, while Prince William holds onto Prince George and Princess Charlotte's hands. Princess Charlotte donned an adorable blue dress for the occasion, while Prince George sported a dashing white shirt and black shorts.
But wait, that's not all — newlyweds Harry and Meghan also made an appearance at the christening. The two walked behind Kate and William, and the couple looked fabulous as usual. Meghan opted for a green dress, and Harry chose a well-fitted suit for the event.
"Members of the Royal Family arrive at the Chapel Royal, St James's Palace for the christening of Prince Louis," Kensington Palace captioned the heartwarming footage, according to Instagram.
Ah, where do I even start in dissecting this amazing footage? First off, Prince Louis blissfully sleeping in Kate's arms is peak cuteness. The newborn was clearly too worn out to notice all of the cameras and fanfare surrounding him, a detail that's pretty darn relatable. I bet many parents out there are familiar with this phenomenon — babies have an uncanny ability to tune out loud noises, right? When it comes to small noises, however, that's an entirely different story. What parent hasn't woken their sleeping child with a tiny cough or text message notification? Babies are mysterious creatures, people.
I also *loved* Princess Charlotte's side eye to Archbishop Welby. The 3-year-old seemed very confused by Welby planting kisses on her and Prince George's heads. Princess Charlotte was probably thinking, "Who is this guy in the strange hat? And why is he talking to me?" Religious customs can be very confusing to toddlers, to say the least.
The best thing about the video, however, are the positive responses to it. Many fans can't get enough of Kate's post-delivery glow and the royal kids.
"Beautiful. The children look so grown up and Kate looks very glamorous," someone said, according to Instagram.
"The Duchess looks amazing, William looks so happy, Charlotte and George too cute. God bless the Duke and Duchess and their little family," another person chimed in.
"My heart is melting," a particularly smitten fan penned.
Yep, I think it's safe to say people adore this video, a fact that's entirely not surprising. From the adorable trio of royal kids to Kate's gorgeous ensemble, there's a lot to love about the christening footage. And on that note, happy christening, Prince Louis.