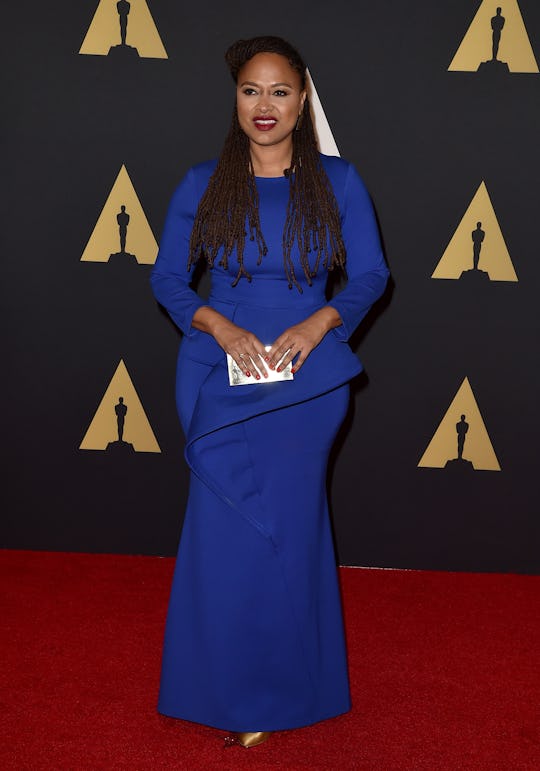 Watch Ava DuVernay Meet Her Barbie For The First Time, Because You Deserve This — VIDEO
Mattel finally released the Ava DuVernay Barbie doll yesterday, and the reactions so far have been great — including the fact that the doll sold out within hours of its release. Though the doll has only just hit the market, DuVernay got to meet her mini-me back in May, and her marketing manager at Array luckily filmed the meeting. Kickass film director and screenwriter Ava DuVernay met her Barbie with a lot of laughter and excitement — even though she had to confront particularly tough casing on the doll beforehand.
DuVernay is the director of the Academy Award-nominated Selma, and in 2012, DuVernay earned the Sundance Film Festival Best Director Award for Middle of Nowhere. She's breaking barriers in film, directing, and writing, which made her an obvious choice for Mattel's Sheroes series, which brought power females' likenesses to the plastic doll. The series celebrates women making strides in the world, such as animal activist Emmy Rossum, magazine editor Eva Chen, and adorable 5-year-old fashion designer Sydney Keiser.
The Barbie sold out in 17 minutes, and all proceeds went to two charities of DuVernay's choosing, Witness and Color of Change.
As a kid who loved Barbies — against my feminist mother's deepest hopes — I would have loved owning a doll who had awesome goals. Judging by people's reactions to the DuVernay doll, I'm obviously not alone in that. I can understand my mom's desire to keep me away from Barbie convertibles and the lipsticked dolls — I wouldn't want my daughter to grow up thinking clothes, cars, cute shoes, and Kens were the important things in life, either. But it looks like Mattel has finally listened and offered up some awesome role models who both parents and kids can get behind.
While DuVernay has been happy to put her name behind the doll, it seems like others are even more stoked about the doll:
If a doll selling out in 17 minutes doesn't send the message that we want more dolls that represent women of all kinds with all jobs, I'm not sure what does.
Images: Kevin Winter/Getty Images, Facebook