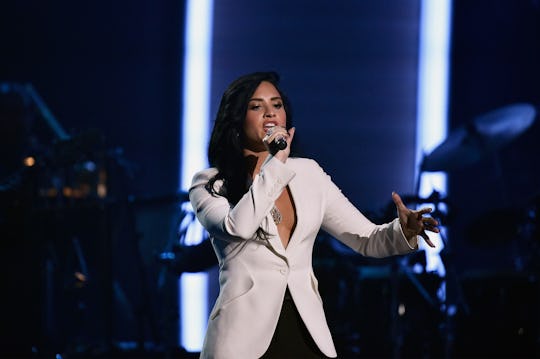 Kevork Djansezian/Getty Images Entertainment/Getty Images
Watch Demi Lovato's 'American Idol' Version Of "Confident," The Performance That Has Fans Talking — VIDEOS
It's no secret that the American Idol stage has a crazy amount of talent on it each week. The final season of American Idol has not been holding back — some of the contestants are the best the show has ever seen. Part of the fun of the show — for fans and contestants, alike — is that it allows famous artists take to the Idol stage and perform, which is exactly what Demi Lovato did on American Idol with the Top 10 contestants. Because she's Demi Lovato — and subsequently, because she's awesome — she had some help for the first of her two songs when the Top 10 performed "Confident" on Idol with the pop star herself.
On Idol, Lovato performed two of her current hits, "Confident" and "Stone Cold," leaving many fans cheering on the singer in the audience and online. In the first number, Lovato was joined by the Top 10 and — you guessed it — the entire performance was amazing. Although I've never been on American Idol, I'd assume it's pretty nerve-wrecking to take to the American Idol stage. So, performing on the stage in front of millions of people beside one of the biggest pop stars today? You've got to give credit to the Top 10 for handling it like real professionals.
For fans of Lovato and fans of Idol, Thursday night was a true two-worlds-colliding moment for them. You can listen to "Confident" as many times as you want on your music app, but in case you can't get enough of the performance of "Confident" with the show's Top 10 contestants, don't worry, you can watch it again and again below.
Immediately after wowing the audience with the joint performance of "Confident," the Top 10 left the stage and let Lovato do her thing. She performed "Stone Cold" — which had a very The Revenant-like opening, if I do say so myself. Maybe Lovato is just celebrating DiCaprio's recent win? Either way, it was a moment where Lovato was able to shine all by herself. She left everything on the stage, including some spit — because she's just that passionate.
Hopefully Lovato isn't a stranger to the Idol stage. There's not much time left before we say goodbye to the TV show that launched the careers of some huge stars, so let's hope she stops by and sings again before Ryan Seacrest says, "I'm Ryan Seacrest, goodnight!" one final time.