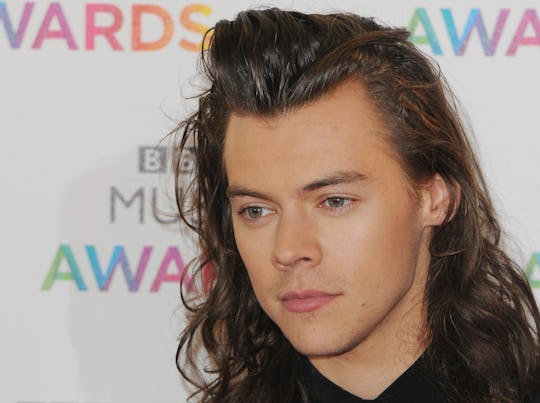 Eamonn M. McCormack/Getty Images Entertainment/Getty Images
Watch Harry Styles In The 'Dunkirk' Trailer & See The Former 1D Guy In A New Light
Many One Direction fans are taking their tears to Twitter after watching Christopher Nolan's Dunkirk trailer featuring Harry Styles, and I can see why. The first look at the film presents Tommy, played by their beloved Harry Styles, gasping for breath underwater. I guess something could "drag [the star] down", after all. Playing soldier is certainly a major departure from Styles' music career. The "Story Of My Life" singer is shown for a split second in the trailer, so it's hard to tell if he will swim or sink as an actor.
The British singer recalled his feelings toward the brutal shoot in AnOther Man's Autumn/Winter 2016 issue.
"My first day on set was so cold. There was sand in my eyes. It was intense. The movie is really ambitious. I feel lucky to be involved in it.".
Styles also took to having a bit of his identity literally trimmed in order to accurately represent the hairstyles of soldiers during World War II. I wouldn't let anybody touch my hair, so props to the 1D member for his commitment. The Sun reports that the star donated what he had cut to the wig-making charity Little Princess Trust.
Going back to oceanic scenes, the trailer is dark, exposing lifeless bodies bobbing about an unsaturated sea. I'm sure fans would not be thrilled to find his bod performing the dead man's float, and their tweets concur.
It's unlikely that he will drown though, since he was allegedly shooting for several months. Will he survive the entirety of the film? That remains to be seen, but what we do get is a shot of him sitting in contemplation on a beach, accompanied by two other soldiers, watching another soldier walk into the water.
The historic take has transported the cast to multiple countries.
"[The crew] tr[ied] to remain faithful to the real story of what occurred during the 1940 evacuation - with air raid scenes being shot in Urk, Holland, pictures of the leading cast members being covered in dirt in Weymouth, Dorset and scenes on the beach of Dunkirk itself."
Watch Harry Style transition from Direction to Dunkirk July 21, 2017. The newbie will be rubbing elbows with A-list actors. Aneurin Barnard, Kenneth Branagh, James D'Arcy, Tom Glynn-Carney, Tom Hardy, Barry Keoghan, Jack Lowden, Cillian Murkphy, and Mark Rylance all star in the 1940 evacuation movie.