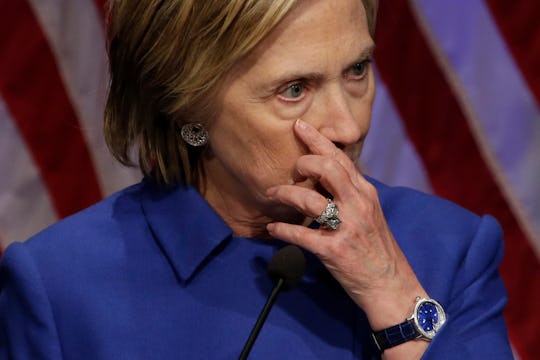 YURI GRIPAS/AFP/Getty Images
Watch Hillary Clinton Talk About What She'd Tell Her Late Mother In This Emotional Clip
Hillary Clinton — ever the articulate, intelligent, and accomplished woman — has made her first public appearance since conceding last week's presidential election to rival Donald Trump in a stunning upset that shocked the world. Honored for her career-long contributions to child advocacy and the Children's Defense Fund at the organization's 26th annual Beat the Odds gala Wednesday night, Clinton spoke candidly about her loss and urged her supporters to keep fighting the good fight. Her most stirring remarks, however, touched on a subject even closer to home. If you haven't seen it yet, watch Hillary Clinton talk emotionally about everything she'd like to tell her late mother.
It's not the first time Clinton has spoken of her mother, Dorothy Howell Rodham, and the strong influence she had on the life of the future first lady, U.S. senator, and Secretary of State. In her memoir "Hard Choices," published in June 2014 as Clinton contemplated a second run for the presidency, she wrote how Rodham overcame a childhood "marked by trauma and abandonment" while "maintaining a strong desire to do good in the world," according to Politico. She further described her mother as "fiercely independent," even as she lived with Clinton in Washington, D.C. in her final years of life. (Rodham died in November 2011.)
An excerpt from that book reads:
Like so many Americans of my generation, I felt both blessed to have these extra years with an aging parent and very responsible for making sure she was comfortable and well cared for. Mom gave me so much unconditional love and support when I was growing up in Park Ridge, Illinois; now it was my turn to support her. … Having her so close became a source of great comfort to me, especially in the difficult period after the end of the 2008 [presidential] campaign. I'd come home from a long day at the Senate or the State Department, slide in next to her at the small table in our breakfast nook, and let everything just pour out.
During Clinton's speech at the CDF celebration, she emphasized the importance of volunteerism and service and advocated for bipartisanship in the years to come, according to NBC News. Later, she fought back tears as she wistfully revealed she'd like to go back in time and tell a young Rodham of her accomplishments to come:
I dream of going up to her and sitting next to her and taking her in my arms and saying, 'Look, look at me and listen. You will survive. You will have a family of your own: three children. And as hard as it might be to imagine, your daughter will grow up to be a United States Senator, represent our country as Secretary of State and win more than 62 million votes for president of the United States.'
Abandoned as a child, Rodham moved out of her abusive grandparents' home when she was just 14 and found work as a housekeeper and nanny, finishing high school thanks to the support of her teachers and employers. She later married, raised a family, and eventually enrolled in college to earn an associate's degree in liberal arts, according to The Washington Post. Rodham's difficult upbringing and story of overcoming the odds certainly inspired Clinton's path in public service and her lifelong dedication to children and family issues: She began her legal career working for CDF founder Marian Wright Edelman in the 1970s. As first lady, she fought to secure health care for millions of American kids and later advocated for women's issues during her time in Congress and as U.S. Secretary of State.
In one touching TV ad during the primary season, Clinton said, "My mom's life and what she went through are big reasons why standing up for kids and families became such a big part of my life." She frequently mentioned Rodham on the campaign trail; when announcing her bid for the presidency in June 2015, Clinton focused her speech on her mother's story and influence, according to The Huffington Post:
My mother taught me that everybody needs a chance and a champion. She knew what it was like not to have either one.
As Clinton begins her life as a private citizen, there was no better way to reflect on her remarkable legacy and to encourage the country she loves to never give up. As she said: "America is still the greatest country in the world. This is still the place where anyone can beat the odds. It's up to each and everyone of us to keep working to make America better and stronger and fairer."