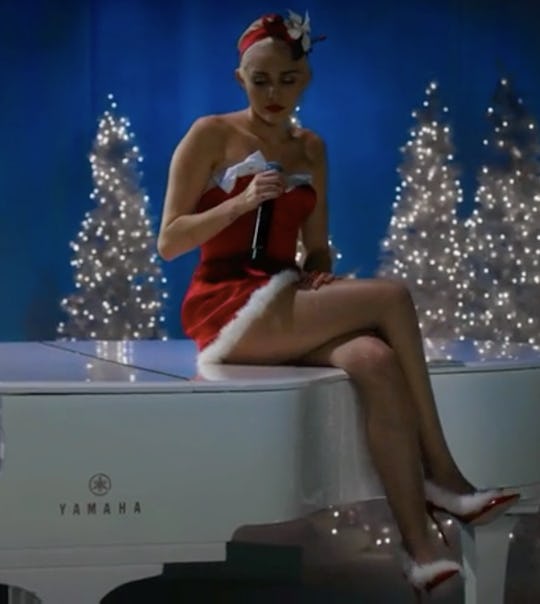 Watch Miley Cyrus Sing 'Silent Night' To Be Reminded That Her Voice Is No Joke
Christmas carols will be super annoying by the end of the month. But when they are good, they can be really good (Mariah Carey, anyone?). Luckily, Bill Murray's new Netflix special A Very Murray Christmas was released today, and we have a whole new batch of current stars belting out their favorite holiday tunes. And the big surprise? Miley Cyrus sings "Silent Night" and totally kills it. Turns out the song is absolutely perfect for her pipes, and she delivers a really sophisticated version, sitting on a piano. Only a real Grinch would have trouble not getting all warm and fuzzy inside while she croons.
Lauren Larson over at GQ points out that it's a very refreshing version of the carol. "Silent Night" is the quintessential hokey, holy song lots of kids have to sing at Sunday school, and "here's sexy weirdo Miley Cyrus in all her tattooed, tiny-dressed splendor" just giving it to us straight. Also, it's not often we get a good reminder that, dayum, Miley can sing. When she really settles herself and gets serious about it, there's literally no one else you need to listen to. And since her voice has that perfectly easy pitch to hit, it makes it all the more fun to wander around your house pretending you're Miley at the VMA's singing "Wrecking Ball." (Or wait, is that just me? Don't judge.)
But that's not the only time Miley has proved that she has it going on. Prepare to jam, friends.
When She Covered "Summertime Sadness"
Doing "We Can't Stop" With Jimmy Fallon and the Roots
This Cover Of "You're Gonna Make Me Lonesome When You Go" With Johnzo West
The Backyard Sessions Version of "Jolene"
Way Back Doing "The Climb" On American Idol
Jamming With Linda Perry
And With Joan Jett
Next time someone says Miley Cryus can't sing, don't believe the hype.
Image: Vid.me; YouTube (8)