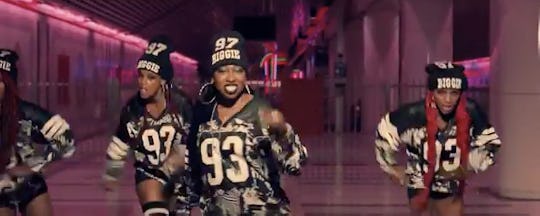 Watch Missy Elliott's "WTF (Where They From)" Video, & Realize Just How Much You Missed Her — VIDEO
Talk about the best #ThrowbackThursday ever. Because, on Thursday, Missy Elliott's video for "WTF (Where They From)" dropped, and it's a win not only for fans of the rapper since the '90s, but also for all human beings everywhere. And the fact that it the single is a collaboration between Elliott and hit-maker Pharrell Williams is just the start of it.
The video, which was directed by Dave Meyers and Elliott herself, features everything you'd expect from the rapper — mostly, dance moves and fashion that will inspire the sh*t out of you. And as awesome as the video is, the song is so much better, worth the three-year wait fans had to brave while waiting for the rapper to release new music. Even if we had to wait one less day than expected — the single was supposed to be released on Friday. But perhaps getting a leg up on Justin Bieber's new album isn't a bad idea?
But based on "WTF," it seems that Elliott is certainly not afraid of other pop stars. Just see the following lyric, which seems to blast Miley Cyrus, who has been accused of appropriation:
The dance you doing is dumb / How they do where you from / Stickin' out your tongue girl / But you know you're too young / A bunch of girls do it and the shit looks fun / That's how they do it where we from / You know it don't start till one / That's how they do it where they from
And, to be sure, Elliott shows us how she does it. Not only does she boast amazing moves like these:
But even a puppet version of Elliott dances better than you could ever hope to:
Welcome back, Missy. Stay for awhile!