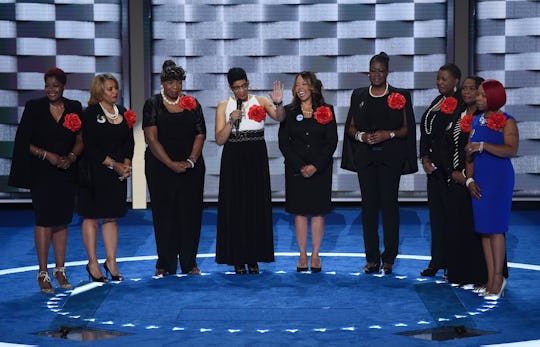 SAUL LOEB/AFP/Getty Images
Watch Mothers Of The Movement Speak At The DNC & Be Moved With Everyone Else
To a standing ovation and chanting of "Black Lives Matter," the Mothers of the Movement used their voices to speak for the voiceless — that is, the children that they've lost to gun violence. The mothers of Eric Garner, Trayvon Martin, Michael Brown, Jordan Davis, Dontre Hamilton, Sandra Bland, and Hadiya Pendleton all spoke from the heart, giving faces to the ever-expanding litany of lives lost. Those who were able to watch Mothers of the Movement speak at the DNC were moved by the resilience and grace expressed by these individuals who are embracing their platform and using it to continue to spread a message of justice.
Sandra Bland's mother, Geneva Reed-Veal, began the engagement by praising God, giving thanks, and relaying the story of "the worst nightmare anyone could imagine," the night she lost her daughter. Reed-Veal was followed by Jordan Davis' mother, Lucia McBath, who spoke optimistically of the movement. She also spoke highly of democratic presidential nominee Hillary Clinton, saying: "Not only did she listen to our problems, she invited us to become a part of the solution. And that's what we're going to do; we're going to keep telling our children's stories and we're urging you to say their names."
Trayvon Martin's mother, Sybrina Fulton, spoke last, claiming "I am an unwilling participant in this movement," as no mother would choose this loss for herself or wish it on anyone else. Fulton reaffirmed her key message, insisting that "This isn't about being politically correct, this is about saving our children." The video below offers the full extent of the Mothers' address.
Mothers Gwen Carr, Sybrina Fulton, Lucia McBath, Lesley McSpadden, Cleopatra Pendleton-Cowley, Maria Hamilton, and Geneva Reed-Veal all showed their solidarity with the movement and with Clinton. As Lucy McBath acknowledged, "the majority of police officers are good people doing a good job. . .and we're also going to keep using our voices and our votes to support leaders like Hillary Clinton, who will help us protect one another so that this club of heartbroken mothers stops growing."
Ultimately, their message is one of safety and attentiveness, promoting awareness while preventing further tragedy from persisting. Speaking for their children, the Mothers promoted steadfast faith and love put into action as the salve for a hurting world.