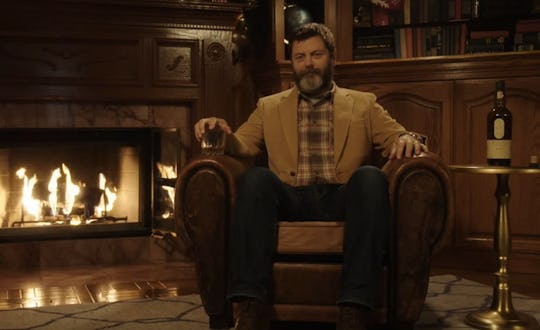 Watch Nick Offerman Drink Whiskey For 45 Minutes, Because This Is What We All Need Right Now — VIDEO
Listen, it's been a rough 24 hours. Another day with a horrific mass shooting, another day when we are left wondering what it's going to take for this type of violence to end. Today, as more and more details emerge about the shooting, the gunmen (one of whom was a woman, so "gunpersons"?), what we all really need is a collective moment to just... chill. In his unique and hilarious way, Nick Offerman drinking whiskey is the gift that will help us do just that.
On the Tales of Whiskey Official Channel, you can now spend 45 glorious minutes watching Offerman drink Lagavulin Scotch Whiskey. Well, you can watch him if it's 10 a.m. and you don't feel quite right about popping open the whiskey yourself. I think the ultimate would be having a glass along with him, though, but maybe that's just me.
Regardless of whether you choose to partake or not, Offerman spends the majority of those 45 minutes staring through the camera and into your soul. He channels every strong, silent father and grandfather out there, looking at you with eyes that tell you story after story. Honestly, it is the most calming and comforting thing I've watched in a very long time. I may actually keep this video on all day in the background, and just refer to it now and then when I need to feel understood.
Here are some highlights.
Look, he was just enjoying a wee dram of whiskey, but he's so glad you've joined him!
Do you see the way he's looking at you? That is a look of compassion and understanding. He just gets you.
Don't forget, he's here to enjoy his whiskey, too. You should try it. Good scotch makes everything better (shhh, let me believe this right now). Here's the full video:
Also, check out these other moments when Nick Offerman proved that he is exactly the hero we need right now:
Seriously, I love him. Some much-needed perspective is given, just by his tone of voice and facial expression, no?
Look at the glee that overtakes his face! Equal parts serious and fun-loving.
The guy can dance, and he's not afraid to show it.
And he speaks the kind of universal truths we all need to hear.
Thank you, Mr. Offerman, for being there for us when we needed you most.
Images: Tales of Whiskey Official/YouTube; Imgur (3)