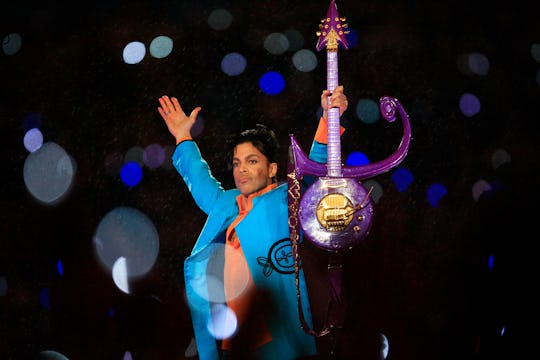 Jamie Squire/Getty Images Entertainment/Getty Images
Watch Prince's Super Bowl Performance From 2007 & Feel All The Emotions — VIDEO
Super Bowl halftime shows can be a wash. Oftentimes it seems like the most memorable moments are when something goes wrong, like a breast popping out or "left shark" going rogue, doing his own thing. The fact of the matter is stadium shows are hard to pull off, especially if the performer isn't up to the challenge of really going big. All that said, if anyone has enough personality, charisma, and raw sensuality to fill a football stadium, it's Prince. He proved that during his memorable and mesmerizing Super Bowl XLI appearance back in 2007. Watch Prince's Super Bowl performance in the video below. It will blow you away.
The matchup that year was between the Colts and the Bears. Does anyone remember who won? Prince did, that's who. That night, it was pouring rain. The stage techs were worried about the slippery tiles on the stage, the 8-inch heels of the dancers, the sizable heels on Prince himself, and stacks of electronics and instruments that not only had to work perfectly, but also couldn't shock anyone. In a video posted by the NFL, one of the managers for the show remembers going to Prince with some trepidation to tell him about the rain. According to his story, now legend, Prince said, "Can you make it rain harder."
The show was more pared down than what we've seen in recent years. The stage was large, and in the shape that briefly took the place of Prince's name. He was practically alone on that big stage, save for two brave dancers and a small band. He didn't need anything else, really. For 12 minutes he wailed on a phallic guitar, playing covers and originals that ranged from Foo Fighter's "Best of You" to "All Along the Watchtower," to a final, heartrending rendition of "Purple Rain." Prince was in a blue power suit, visibly soaked, his hair, usually perfectly coiffed, was curling in the rain. Camera shifts to the audience reveal that everyone in the crowed was equally drenched and delirious, having the time of their lives. A marching band piped with glowing neon lights stepped in formation across the field, playing along with Prince, adding to his fanfare.
Watching the video now, it looks as though Prince planned what could have been a huge mishap. He doesn't ignore the rain. He uses it. What's sexier than getting soaked to the skin in a Miami downpour? There's only one answer: Prince getting soaked to the skin in a Miami downpour. Looking back at a long career of musical innovation, impeccable stage presence, and an enviable collection of scarves, this moment is only one of many that shows Prince's artistry and grandeur. Like a sudden storm, he was a force of nature.
Prince died on Thursday at the age of 57, at Paisley Park Studios in Chanhassen, Minnesota, and his fans won't stop mourning anytime soon.