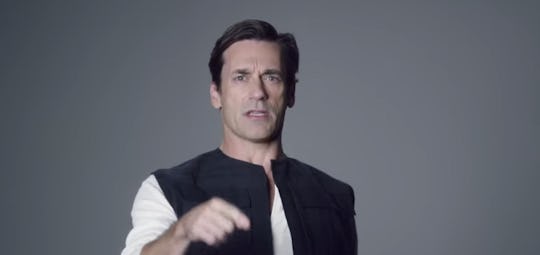 Watch 'SNL's 'Star Wars' Audition Reel, Featuring Jon Hamm, Emma Stone, And, Yes, The Cast Of 'Star Wars'
It's a formula that's often used on Saturday Night Live, but it's no less delightful whenever the sketch comedy show decides to run it: the celebrity impression clip reel. And, on Saturday night, it took the form of SNL's Star Wars audition sketch, which featured not only hilarious renditions of stars like Sofia Vergara, Chris Tucker, and Maggie Smith, but also cameos from real-life celebrities like Jon Hamm, Emma Stone, and Michael Bublé.
And the latter three were just the icing on the cake. Because any fan looking forward to the Dec. 18 release of Star Wars: The Force Awakens would have totally freaked out C-3PO-style seeing appearances from director J.J. Abrams (who introduced the sketch on Saturday Night Live) and cast members Daisy Ridley and John Boyega.
That said, it's hard to top highlights like Stone mocking her Aloha whitewashing controversy ("I can play a very convincing part-Asian woman") and, of course, SNL favorite Hamm, who nailed his self-created Star Wars script, "You have the first line. It's, 'What's up Hamm Solo,' and I'm like, 'How's it goin' guys.'"
Now, if only Bublé and Hamm could have stuck around the set long enough to collaborate on another "Hamm and Bublé."
Image: NBC