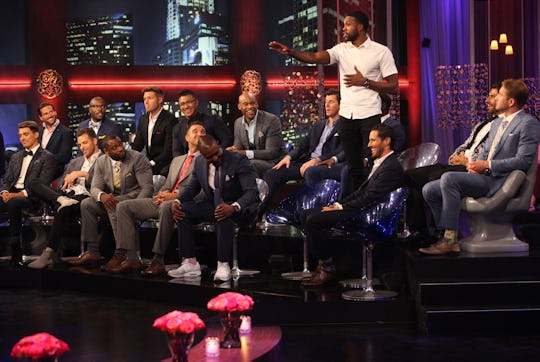 Paul Hebert/ABC
This New 'Bachelor In Paradise' Trailer Is Full Of Drama
Well, another round of The Bachelor and The Bachelorette is over. Nick Viall, and subsequently Rachel Lindsay, have found the loves of their lives (supposedly) and no longer have the need to be on reality television. The contestants that lost, though? Some of them can't help but try to find love (or lust, or Instagram followers) on another ABC program: Bachelor in Paradise. Yes, the messiest show of the Bachelor franchise is back next week, and viewers were able to get a sneak peek during The Bachelorette finale on Monday night. Watch the Bachelor in Paradise Season 4 trailer to see a glimpse at this season's drama.
When Paradise first began filming there was, unfortunately, a lot of controversy surrounding Corinne and DeMario. After the two spent time together in the pool, there were reports of an alleged assault. This ended up halting production, and some believed this season would be canceled altogether — and maybe Paradise as a whole would end. No wrongdoing was found during the ABC investigation, though, so the production started up again and will begin airing on Monday, Aug. 14 (the turnaround for this show still astounds me). During the first look at this season, producers did not shy away from showing the fallout of that night. Viewers won't get the whole picture until it's actually shown during an episode, but it's clear that it was not left on the cutting room floor.
Astoundingly, the trailer did not just show Corinne and DeMario — even though it could probably take up episodes upon episodes of footage. No, it quickly moved on to show fan favorites from seasons past — and people Bachelor Nation forgot about – getting down and dirty in paradise. From the looks of it, several of Rachel's men from this season appear from the onset: Dean, Alex, and Matt are prominently featured (which I think is hilarious, considering how little Alex and Matt were shown on The Bachelorette.) Several women from Nick's season, like Jasmine, are also getting friendly with everybody.
While there's still controversy over Corinne and DeMario — now more so about how ABC is handling it — viewers can see that Paradise will show a lot of unrelated drama throughout the season. That's probably for the best: I prefer drama to be about bad dates and weird pizza eating habits. From the looks of it, fans will not be disappointed with what's to come.