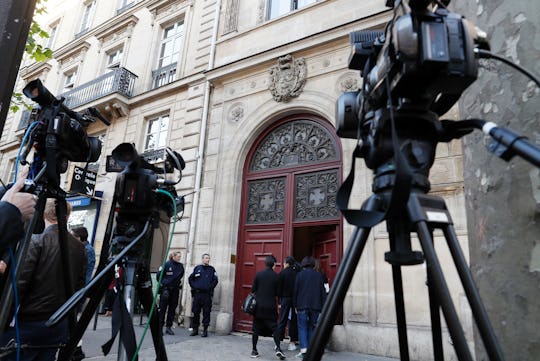 THOMAS SAMSON/AFP/Getty Images
Watch The Kim Kardashian Robbery Footage, Which Shows The Robbers As They Got Away
In early October, Kim Kardashian West was in Paris for Fashion Week when she was held up at gunpoint and robbed of millions of dollars worth of jewelry. The robbery immediately made international headlines, but the thieves have yet to be caught. Watch the Kim Kardashian robbery footage, released by TMZ. It appears to show several suspects getting away on foot and by bicycle.
The grainy CCTV video, time and date stamped Oct. 3 at 2:19 a.m. appears to show the five alleged robbers approaching Kardashian's private Paris apartment. Just under an hour later, the five are seen again — a few running and a couple on bicycles, escaping from the scene through an alleyway. TMZ also reported that police have no leads yet on the identities of the robbers.
A few days after the robbery, it was reported that, when the robbers left the apartment and made their getaway, they dropped one item of jewelry that was later recovered: a platinum mounted diamond cross worth around $33,180 according to TMZ. Police were apparently checking the necklace for any DNA evidence that could lead them to the robbers. It was suspected the robbers had intentionally pretended to drop something — and one even fell off his bike — in order to make police think they were amateurs, according to US Weekly. The cross, then, may have been a plant or a legitimate mistake — police have not yet determined which.
All accounts from her sisters and those close to Kardashian have said that she hasn't been doing well. Her sister Kourtney told Australia's Today Extra Thursday morning that Kim's "not doing great. We are all really still shaken up. We get through things as a family, and that's what family's all about." Kourtney also commented on the situation when she was a guest on The Ellen Degeneres Show on Oct 11, according to People:
I mean, it's incredibly traumatic what happened to her, but our family is super close and great and we'll get through it together, and we do appreciate all of your guys' love and support and it will take time. You know, it was horrible what happened to her.
Understandably, the star is still reeling from not just the loss of $10 million in jewelry, but the trauma of being bound, gagged, and held at gunpoint as the robbery occurred. When she stepped out in Beverly Hills last week, sources told E! News that she appeared "somber" and was trying to stay "incognito" as she made a brief trip with a friend to a nearby restaurant.
Her mother, Kris Jenner, told E! News: "She's home, and that's all that matters. She wants to be with her kids and family. It's just family first," according to ABC News. Jenner added that for now, Kardashian is just taking things "one day at a time."