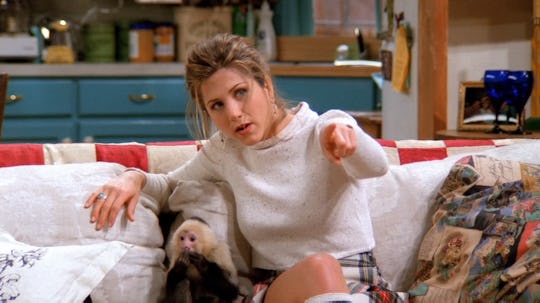 NBC
More & More People Are Watching Netflix With Their Pets & Their Show Choices Are Paw-Some
Plenty of pet owners would probably admit that most situations are improved by having your furry friend by your side, especially when it comes to cuddling in front of the TV. And as it turns out, a recent survey conducted by Netflix has proven that watching Netflix with your pet is more common than ever. In fact, the study even discovered what the 10 most popular shows to watch with your pet are in the U.S. So if you and Spot are on the lookout for something new to marathon, you definitely have some great options.
According to the survey, 71 percent of Americans would rather settle in for a Netflix spree with their pet than anyone else. That's probably because they don't talk over the important moments or guess the endings of movies ahead of time. Even better, they pass no judgement over the fact that you're turning on a sappy rom-com for the third time this week or preparing for your millionth rewatch of The Great British Baking Show (not that I'd know from experience or anything).
Around 84 percent of Netflix members like to watch shows or movies with their pets, so it's definitely a popular habit with the majority of subscription holders. And it's not just about watching something together. Pets can provide comfort during tough moments (with 28 percent of people turning to their little fluffers during sad or scary scenes) or even just act as sounding boards. It was determined that 27 percent of members chat to their pets about what they're watching, because sometimes you really need an audience when you want to vent your frustrations.
Netflix members also go out of their way to make sure their animal pal is totally at ease during a viewing party. The survey reported that 47 percent of users have moved from their spot so that their pet could be more comfortable, but 17 percent have bribed their pets with treats to watch longer and 13 percent have simply turned off a show their pet didn't seem to like. Some animals run their homes with iron paws, it seems; whatever they say goes, and obviously they're just too adorable to disagree with.
But what are people and their pets watching together as they shuffle seating around and defer to doggie preferences? The survey indicated that dog owners are action fans, interested in series like Narcos or Daredevil, whereas cat owners are much more into sci-fi shows such as Black Mirror or Star Trek Discovery. Bird lovers prefer comedies like Orange is the New Black. But the number one watched show across the board for pets and their owners is Stranger Things, despite the fact that animals have not fared too well in Hawkins.
Stranger Things might be at the top of the list, but there are nine other shows best beloved by various animal companions and the humans who pay for their Netflix accounts. Fuller House follows as second on the list, with 13 Reasons Why taking spot number three (no surprises there; it's definitely a series that requires pet cuddles to cope). Orange is the New Black and House of Cards are in fourth and fifth place, respectively. After that are five more popular (and pretty stressful) shows: Black Mirror, Daredevil, A Series of Unfortunate Events, The Ranch, and Better Call Saul.
Based on this survey, it seems like dogs and cats (and birds!) enjoy prestige TV almost as much as their human roommates. People may be driving those choices, but pets are always there to provide support during painful moments or look at you in vague confusion while you cackle during happy ones. They make everything a little bit better, Netflix-watching included.
Check out Romper's new video series, Romper's Doula Diaries:
Watch full episodes of Romper's Doula Diaries on Facebook Watch.