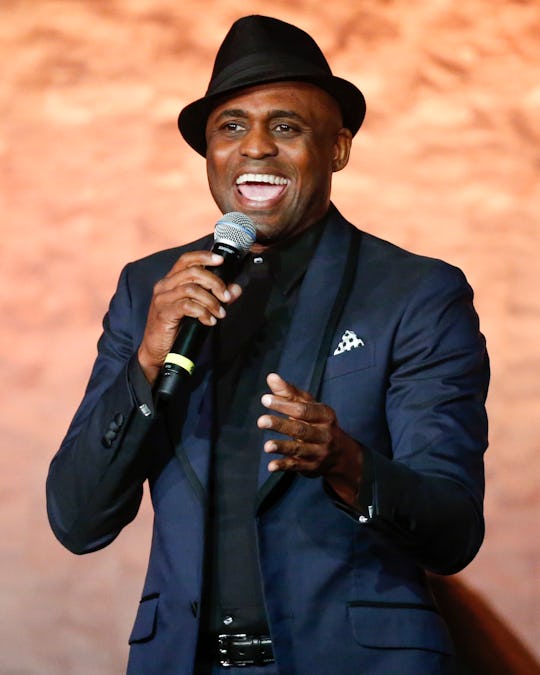 Rich Polk/Getty Images Entertainment/Getty Images
Wayne Brady Is Joining 'Hamilton', Guys
The mega-hit Broadway musical Hamilton: An American Musical was too popular for just one city: while it's still playing in New York, it opened in Chicago in October. And now, Midwesterners rejoice as news broke this week that Wayne Brady will join the Hamilton cast as Aaron Burr. Brady, who is 44, is beloved by '90s kids everywhere as the once-Drew Carey guest star who became a star in his own right on the improvisational comedy show Whose Line Is It Anyway?
Brady shared the news on his Twitter account Monday afternoon, tweeting, "I've been dying to tell you guys!!" and linking to a Broadway.com article about his upcoming Hamilton debut. Show creator Lin-Manuel Miranda responded in kind, tweeting, "I have also been dying to tell them Wayne." All good things must come to an end, of course, and Brady's run as Burr will be limited, from January 17 through April 9, according to The Chicago Tribune. Joshua Henry, the actor currently playing Burr in Chicago, will be joining the highly-anticipated national tour of Hamilton beginning in March. The casting announcement came on Monday directly from Jeffrey Seller, the producer of Hamilton in Chicago, which plays at The PrivateBank Theatre, a storied Chicago playhouse that is known to many locals as the Shubert Theatre.
Brady will be the first big-name star cast in a major Hamilton role, which will make for an interesting addition to the production. A recent Tribune review of the Chicago production compared it to Hamilton in New York, noting that "The heartland "Hamilton" is performed by players mostly younger and less experienced than the original New York cast... The show is less confidently articulated in places, less flashy and rawer throughout. But it is thus more in touch with the fundamental scrappiness of the early years of a rebel colony turned into spectacular democratic experiment."
Brady's talents are such that he'll likely maintain the scrappy aura of the Chicago show, even with his star power in tow. His background is strongly rooted in improv theatre, having started his career on the British version of Whose Line Is It Anyway?, and then starring in the American version from 1998 through 2006 and again when it was rebooted in 2013. The five-time Emmy winner received two Emmys for his short-lived daytime variety show, The Wayne Brady Show. He is currently the host of CBS' Let's Make a Deal.
Amidst his many television and film roles, including frequent guest appearances on a variety of TV shows, Brady has showcased his considerable singing talents on Broadway. Most notably, he played Lola in Kinky Boots, which won six Tonys in 2013. Brady's career, frankly, has been a whirlwind of awesomeness, and his upcoming Hamilton role will be a true treat for his many fans.