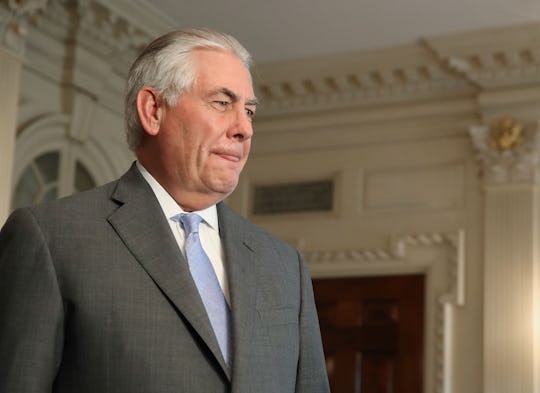 Mark Wilson/Getty Images News/Getty Images
Wayne Tracker Tweets To Get You Through The Day
It's starting to feel as if every morning, Americans are forced to spend at least an hour just combing through social media to understand the latest political and international controversies and conspiracies flooding the internet. Even a massive late winter storm slamming much of the East Coast and shutting down cities doesn't seem to change the fact that, once again, President Donald Trump's administration is making headlines. This time, the spotlight is squarely on newly appointed Secretary of State Rex Tillerson, former Exxon Mobil executive, who allegedly used a pseudonym — "Wayne Tracker" — while with the oil company to email about climate change. Obviously, social media's response to the baffling report has been on point, and these Wayne Tracker tweets show people aren't letting Rex Tillerson off the hook just yet.
According to Reuters, a letter sent to a New York state judge — who is "overseeing" an investigation into Exxon Mobil — from New York Attorney General, Eric Schneiderman detailed that "Tillerson had used an alias email address under the pseudonym 'Wayne Tracker' from at least 2008 through 2015." (As Wayne is Tillerson's middle name, the alias isn't exactly sneaky.) The emails have become part of Schneiderman's research to see if Exxon had ever misrepresented their knowledge on climate change to the public, or their shareholders. While Exxon had previously provided 2.5 million pages of information regarding the case, nothing of Tillerson's alias was ever mentioned.
Exxon Mobil spokespersons responded to the scandal on Monday, according to Reuters, writing in a statement, "The email address, Wayne.Tracker@exxonmobil.com, is part of the company's email system and was put in place for secure and expedited communications between select senior company officials and the former chairman for a broad range of business-related topics."
Whatever the case, it's clear that Americans aren't simply going to let this one go, as Twitter proved this week:
Obviously, the mention of aliases and fake names led many to compare Tillerson's Wayne Tracker, to Trump's own dealings with fake names. Back in the '80s, Trump allegedly used the name "John Barron" as an alias for his spokesman. In reality, Barron was reportedly Trump himself:
And, of course, comparison's to former Democratic New York Rep. Anthony Weiner's alleged sexting alias, Carlos Danger, couldn't be avoided either:
Really, though, the Wayne Tracker incident isn't too surprising, given the confusing times we live in. And while, hopefully, the information will serve some sort of purpose in the current Exxon Mobil investigation, these tweets might help distract you from the flaming garbage fire that is modern American politics.
Keep on keeping on, Twitter. At this crucial point in American history, you're totally and completely necessary.