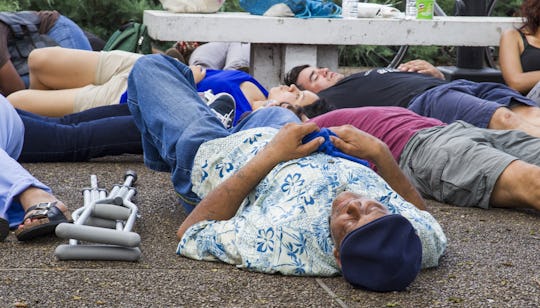 Mark Wallheiser/Getty Images News/Getty Images
Ways To Peacefully Protest Philando Castile & Alton Sterling's Deaths
In the wake of the tragic officer-involved shootings of Alton Sterling in Louisiana and Philando Castile in Minnesota, violence erupted once again as a gunman opened fire at a Dallas Black Lives Matter demonstration on Thursday, killing five police officers and injuring seven more officers and two civilians. While some speculate that the attack may have been retaliation for the recent officer-involved shootings, thankfully, the majority of Americans recognize that the proper response to violence is not more violence, and there are ways to peacefully protest Philando Castile and Alton Sterling's deaths.
Protests around the country have been ongoing since Sterling was killed on July 5, and on Wednesday, Sterling's 15-year-old son, Cameron, addressed the crowd outside of the Triple S Food Mart in Baton Rouge where his father was slain eight days prior. "People in general, no matter what the race is, should come together as one united family," the boy began, calling his father's death "a sacrifice to show everyone what has been going on," according to ABC News. He urged protesters to "protest in the right way, with peace. No violence. None whatsoever." The very least protesters can do is to respect the wishes of a grieving family.
On Friday, demonstrators participated in a "die-in" in front of the New Orleans Police Department to protest the recent violence. After a clap to represent a gunshot, about 45 people fell to the ground, according the The Times-Picayune, and lay there for 20 minutes. In New York City on Saturday, over 500 protesters marched up Broadway. The Daily News reported that more than 20 were arrested after blocking traffic and were charged with misdemeanor disorderly conduct. At a rally that began at the Springfield, Massachusetts City Hall on Monday, Green Party presidential nominee Dr. Jill Stein addressed the crowd, calling for protesters to "fight like black lives depend on it," according to MassLive. The protesters then marched to the federal courthouse before returning to City Hall for a candlelight vigil.
A protest condemning violence is worthless if it doesn't embody the principles it espouses, and no person should feel unsafe when they gather with like-minded people in a call for peace. The way to affect change is to advocate with calm dignity and courage, and although anger is certainly justified, it can quickly lead to dangerous situations. Protesters should demand justice without threatening public safety. It's time to heed Cameron Sterling's words, which bear repeating: "No violence. None whatsoever."