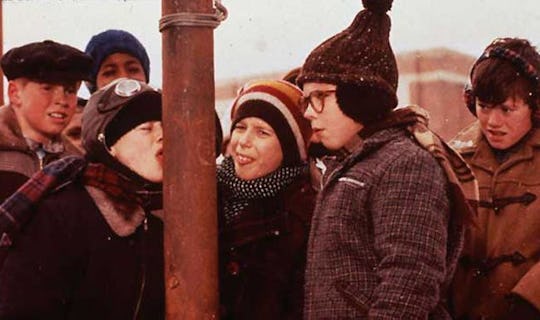 Warner Bros.
Check Out All The Ways You Can Watch 'A Christmas Story' This Winter
If you've never watched A Christmas Story now is the time to redeem yourself. There are actually quite a few ways to watch the iconic holiday film with air dates on and before Christmas Eve and Christmas Day. All you really need is the desire to obtain a pink bunny onesie, a healthy dose of nostalgia, and a penchant for old-timey vignettes. Although, please avoid any and all ice-cold flagpoles. Please and thank you. If any of this sounds like your cup of hot cocoa, here are all the ways to watch A Christmas Story this winter to make your season bright.
If you have cable, TV Guide said TBS and TNT will air the annual A Christmas Story marathon. The whole shebang begins on Christmas Eve at 8 p.m. ET. That means you get to watch and rewatch the classic every two hours for an entire 24 hours. The last one to catch starts at 6:00 p.m. ET on Christmas Day. If waiting until Christmas Eve is too far away, TCM has their own marathon situation where you can obsess over Ralphie's use of the word "fudge" (you know it wasn't really "fudge," right?) starting at midnight Dec. 23. This one runs through Christmas Day, ending at 8 p.m. ET. There's literally no reason you can't watch the movie at least seven times (at the bare minimum).
Of course you could always purchase A Christmas Story for about $10 to watch any time of year if you don't want to wait for Christmas Eve. If actually using your Playstation or DVD player feels like too much work, consider checking out a streaming or online service to get your Ralphie fix day or night. You could sign into your Amazon Prime account to rent the movie for around $4, or Google Play or YouTube for $3. If none of those are your thing, you can always try iTunes for $4 or Vudu for the same price. There's also Xfinity to stream A Christmas Story and all that's required is an account you sign into. If you're looking to watch the movie in a bigger way with popcorn and a crowd, A Christmas Story is coming back to select theaters in limited release.
If you don't even remember what A Christmas Story is about, the vignettes follow Ralphie Parker (Peter Billingsly) on his journey through childhood in the '40s. He spends a lot of his time day dreaming about a Red Ryder air rifle and hiding from schoolyard bullies. His little brother, Randy is the whinier of the two, frequently stuffed into his winter gear and avoiding his mother's meatloaf and mashed potatoes. Speaking of Mom, Ralphie and Randy have an adoring mother (Melinda Dillon) while their father — an often grumpy man (Darren McGavin) who values his leg lamp "award." The story is loosely based on the humorous work of Jean Shepherd and serves as the backdrop for many holiday gatherings.
No matter which way you choose to watch the classic movie, you'll be quoting along with the characters in no time. Maybe it'll inspire you to order your own pink onesie, or you could stay overnight in the real life A Christmas Story house in Cleveland, Ohio. Whatever it means to you, there are plenty of options to watch it whenever, and however you want.
This first-time mom wants to have a home birth, but is she ready? Watch how a doula supports a military mom who's determined to have a home birth in Episode One of Romper's Doula Diaries, Season Two, below. Visit Bustle Digital Group's YouTube page for the next three episodes, launching Mondays in December.