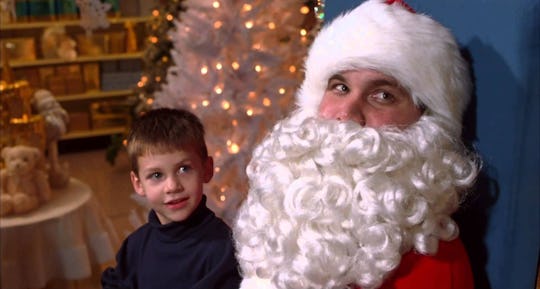 New Line Cinema/Warner Bros.
Why I Refuse To Use The "Naughty List" Threat On My Kids
I hear a lot of adults tell my kid the same advice: be good and Santa will bring you a sh*t-ton of toys. And while I appreciate the positive reinforcement from strangers who aren't too woke to flat-out tell my toddler that this whole concept is a myth, I have become critical of our seasonal parenting style, which focuses on the karma of being "naughty" and hence not earning the gifts bestowed upon you at Christmas. The commercial premise of Christmas is anxiety-inducing alone. Add the empty threats jingling along the way, when there is no intention on fulfilling them, and you've also created a challenging and fruitless approach to discipline. Basically, Santa's list is a special brand of ugh — we all sit on a throne of lies.
This holiday season my husband and I are in the thick of threenager parenting. Add to the mix a 5-week-old baby and you've got an older sibling full of mixed emotions and an age-appropriate way to handle them all: toddler tantrums. Like any good parent in 2017, I turn to Google and mommy blogs for advice, solace, empathy and comfort. Because I know that a part of effective parenting is setting boundaries and limits and fulfilling what you say you're going to do, I know that threatening to call Santa, text Santa, email Santa and ask Santa to downright put my kid on the naughty list is nothing more than a month or so of endlesss empty threats with a big unfulfilled promise on Christmas morning.
And the threats don't turn up unfulfilled on just Christmas morning. Througout the season as we're dashing and dancing through every holiday event where Santa is present — from church holiday parties to multiple breakfasts with Santa — the man, the myth, the legend himself is ever-present to completely refute any claim we may have boldly proclaimed in the days leading up to the coveted meetings with Old Saint Nick.
"If you don't listen to your parents, Santa won't come to our house," we'll say and then later scroll through the latest deals on our smartphones as visions of well-behaved and happy children on Christmas morning dance through our heads.
I know it's not super fruitful to delve into the mythology of the Austro-something-or-other Saint Nicholas, but in 2017, the idea that all our kids are beholden to an old white guy who calls the shots and has the power to give or take away a child's happiness is also a ~little~ too much like reality. We already live in an oligarchy! I don't need an additional authority figure to go with the president, the pope, and Matt Damon. The idea of naughty or nice isn't even morally obvious to a kid — I'll stick with the book about filling everyone's buckets, thank you very much.
Be honest, when it comes to Christmas day, every kid in this world deserves to wake up and find those presents under the tree. Like we know that Santa's list is a joke, but kids do not.
While turning to Santa is a seasonal parenting disciplinary approach, it, like any other empty parenting threat, is largely ineffective in curbing behavior. The next tantrum will still arrive, and once my kid gets in several good conversations with Santa, she'll be confused about if she's getting presents. And once Christmas actually comes, she'll realize we're all bluff. These are all the the reasons I'll stick to traditional forms of discipline — short-term tangible impacts that I can follow through with to show we mean business. In the world of toddler versus parents, Santa has no role.
Check out Romper's new video series, Romper's Doula Diaries:
Watch full episodes of Romper's Doula Diaries on Facebook Watch.