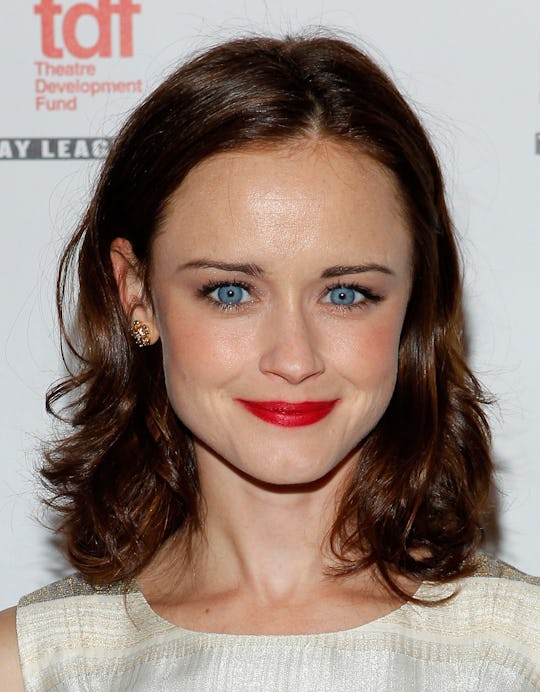 Jemal Countess/Getty Images Entertainment/Getty Images
We Aren't Getting Alexis Bledel Baby Pictures Anytime Soon & That's Kind Of Refreshing
Gilmore Girl fans and celebrity baby hounds were taken by surprise this week when Us Weekly, in an interview with Gilmore Girls co-star Scott Patterson, revealed that Alexis Bledel and her husband, Vincent Kartheiser, had a baby like last year to be exact. If you thought that Ryan Gosling and Eva Mendes were some sneaky celebrity parents, Bledel and her Mad Men alum husband totally win the prize. Much like other protective parents, this means means we aren't getting pictures of Alexis Bledel's son anytime soon — and I think I'm OK with that.
Many celebrities who like to keep their kids away from the paparazzi at least talk about being a parent now and again. But Bledel and Kartheiser's silence about anything going on in their personal lives — they were even married semi-secretly in 2014 after dating for two years — is almost political in it's totality. The media doesn't get a piece of them at all. Of course, that might change as Bledel hits the road to push the new Gilmore Girls reboot on Netflix or Kartheiser gets a big project and makes the rounds on the late night TV circuit to share his "funny, endearing dad" stories like Ryan Reynolds or Chris Pratt. But probably not.They just don't seem like the type to talk to Jimmy Fallon about breastfeeding or changing diapers.
In fact, Patterson, who plays Luke on Gilmore Girls, sort of spilled their beans to the magazine in an interview. For him, talking to Bledel about her kid is normal, but that doesn't mean she's going to open up to the whole, wide world. And now the whole wide world is talking about her "secret baby" which makes it seem like she's been hiding a nuclear weapon. It's not a "secret baby," it's just none of our business, really.
That's become very clear recently. Especially after Ashton Kutcher, Kristen Bell, and Dax Shepard stood up to paparazzi agencies for selling pics of their kids in 2014. It looks like it sort of worked. People and Entertainment Tonight banned paparazzi shots of celeb babies and only run officially released images of celeb babies or posts from social media accounts.
If someone famous wants to share their baby and their parenting life, like the Kardashians or Chrissy Teigen, of course they should go ahead and do it. Even us regular folk share different aspects and levels of our lives on social media —just because someone's a household name shouldn't change that. There's no contract saying that the public gets to peep at everything. And although I enjoy me some Hollywood voyeurism, there's something pretty classy to keeping your family to yourself if you're a celebrity.
But just how Alexis Bledel got through an entire pregnancy and the Gilmore Girl reboot buzz without someone writing about her baby bump is just totally impressive. Maybe she could talk about that on her press tours.