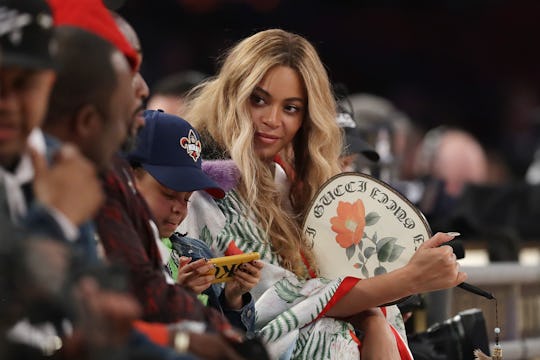 Ronald Martinez/Getty Images Sport/Getty Images
We Finally Know Which Of Beyoncé's Twins Is Older
Beyoncé finally broke her baby silence last week, posting the very first public photo of her little ones following their birth on June 13. Seeing as the caption was so withholding, there are still questions that fans want answers to. One of them, though, has been put to rest as we now finally know which of Beyoncé's twins is older. Before you read on: Any guesses? Is your money on Rumi, or is it Sir?
E! News reported that Rumi and Sir Carter entered the world on June 13, 2017. As for birth order, Rumi reportedly clocked in first at 5:13 a.m., and Sir came within the same minute. It's a slim margin for sure, but it still posits Rumi as the older twin, so technically she's the middle child of the family. This news was confirmed by the twins' birth certificates, which were reportedly obtained and released by People. The certificates also reportedly indicate that the twins don't have middle names, which is pretty posh if you think about it. Maybe they'll follow their parents' leads and drop their last names altogether — not yet, of course, but it could be a step toward helping their future careers. (OK, calming down now, they're only 1 month old.)
Five-year-old Blue Ivy Carter is, of course, the big sister of the bunch. Her grandmother, Tina Knowles Lawson, has even bragged on Blue's sistering abilities, telling Entertainment Tonight host Denny Directo that, as far as big sister duties go, Blue is "very proud and very excited," and that "she's a good big sister, she really is."
In the post announcing the twins' birth, which was released early Friday morning Eastern Time, Beyoncé wears a veil and stands in front of a floral wreath with blue ocean and skies behind her. As you can see above, she cradles both of her babies, who are tiny as can be. She holds them with arms draped in a romantic, flowing dress (worn instead as a robe) designed by Alejandro Gómez Palomo. "Sir Carter and Rumi 1 month today," the singer captioned the picture.
It was the first photo Bey had put on Instagram since before the babies' birth. The last photo posted prior to Friday's internet-breaking post was dated May 30 and featured Blue Ivy. In the image, Beyoncé holds Blue in her arms, and the two of them are dressed up for the pool. Blue is wearing a stylish hat and her mom is blowing her a big kiss. Since the twins' first photo, Bey has also posted a couple more images of herself and husband JAY-Z, dressed up for date night.
Slowly but surely, details on Beyoncé's twins are creeping out, and fans are rejoicing at the info. After posting this initial photo with her newest ones, maybe a family shot is on way, big sister, twins, father, and all.