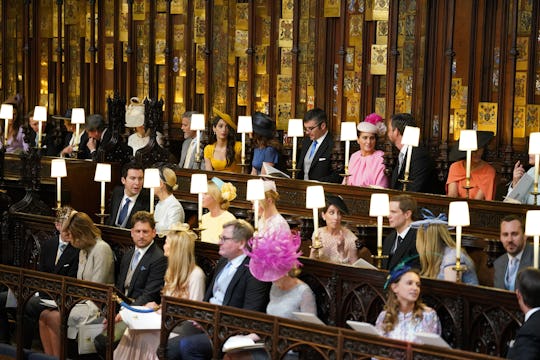 WPA Pool/Getty Images Entertainment/Getty Images
We Finally Know Why Guests Were Giggling At The Royal Wedding & It's Just Too Sweet
The royal wedding between Prince Harry and Meghan Markle may have went down a week ago today, but details surrounding the grand affair are still slowly surfacing. (And that's good news for fans of the royal family, because we can't get enough!) Those of us who weren't lucky enough to watch the nuptials in-person — which I'm assuming is most of us — probably noticed members of the audience laughing at one point during the ceremony. Well, we finally know why guests were giggling at the royal wedding, and it's just too sweet.
In case you weren't aware, there were 1,200 members of the public invited to attend Prince Harry and Markle's May 19 wedding festivities on the grounds of Windsor Castle, USA Today reported. These guests were chosen because they are outstanding members of their community — and many of them are involved with charities or community groups, according to the publication. And apparently, it was this excited and boisterous crowd that was the responsible for all the laughter, Town & Country reported. "Once I was there, I got to see the people that were on the grounds with us. Sharing that with them was unexpected and heartwarming," Gavankar told the publication. "I really thought that I would be shaken by how public the whole thing was, but I wasn't."
If you watch in the video below (skip to the 2:50 mark if you want to get right to it), the priest asks Harry to affirm his vow, and the groom replies, "I will." Which is no laughing matter, of course. Except he apparently said, "I will," loud enough for the crowds outside to hear — and they cheered loudly in response. "One thing that made many of us giggle was that we could hear the wonderful people outside," Gavankar said, Us Weekly reported. She continued:
When the vows were happening, they would cheer, and we could hear them. It was a very quiet chapel. We all followed the Queen's lead. But we could hear everyone cheer and it was so heartwarming. Really, it filled our hearts.
Can I just take a moment to say how much I freaking love this moment? Royal weddings are epic affairs, but let's get real: They can also come off as extremely stuffy. With the plethora of the royal traditions to follow, the strict dress code, and just all the expectations in general, this moment of joyous laughter instantly lightened the mood. (I mean, I was nervous for Harry and Meghan just sitting on my couch at home watching.)
In other "Why the heck are they laughing?" news related to the royal wedding, many people were probably wondering about Prince Harry and Markle's official wedding portrait. In the shot released by Kensington Palace two days after the wedding, the newlyweds are sitting on steps and laughing. As New Idea reported, this photo was actually taken after the photographer, Alexi Lubomirski, had decided to wrap up the shoot. "I said finally, 'Okay, let's go back. You can go back to your thing now, but listen, just before you go in, let's sit down on these stairs',' Lubomirski told the publication. He continued:
And she just slumped in between his legs, and there was this moment where they were just laughing because they were joking about how they were exhausted and finally it's all over. And they just looked at each other and they were just laughing, and it was this just beautiful moment.
I mean, can the Duke and Duchess of Sussex get any cuter? (No, no they cannot.)
So yeah. Based on the laughter that went down on Prince Harry and Meghan Markle's big day, it's obvious the newlyweds were surrounded by so much joy and love. Even if the preparations and day-of schedule were stressful and exhausting, they were still able to enjoy these candid moments. Here's to many years of laughter together, to come!