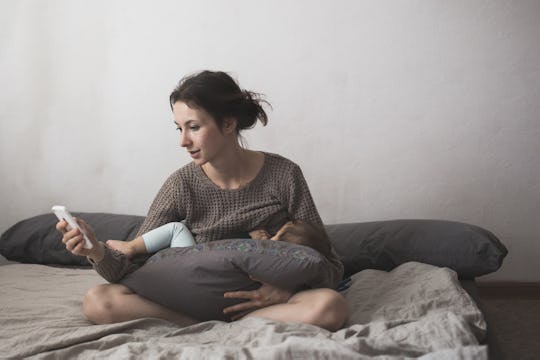 Courtesy of Fotolia
Exclusive Breastfeeding Is A Choice Only The Privileged Can Make
As the saying goes, "breast is best" — and there's lots of research to support that. Breastfeeding gives babies essential vitamins and nutrients, as well as antibodies that protect children from ear infections and diarrhea. In fact, the Centers for Disease Control claims that "one of the most highly effective preventative measures a mother can take to protect the health of her infant is to breastfeed." But even though most of us agree that exclusive breastfeeding is a good thing, it's also a privilege that not all women can afford — and statistically speaking, it's a privilege that largely belongs to wealthy white women.
There's a ton of pressure on mothers to breastfeed, to the point that we, as a culture, have started referring to breastfeeding as an obligation, or a "job." Usually, this language is used one of two ways: to refer to how much work goes into exclusively breastfeeding a child, including long hours, late nights, and tons and tons of nipple cream; or to refer to how it's a mother's obligation to breastfeed. In 2010, supermodel Gisele Bündchen even told Harper's Bazaar that "there should be a worldwide law... that mothers should breastfeed their babies for six months. Are you going to give chemical food to your child, when they are so little?"
Even though people like Bündchen might mean well, we need to stop this nonsense about how exclusive breastfeeding is a mother's job. It's not. It's a choice, and it's a choice that many women around the world simply do not have the luxury to make.
Both the Centers of Disease Control (CDC) and the World Health Organization (WHO) recommend exclusive breastfeeding for at least six months, with no supplementation or solid foods. Yet few women actually achieve that goal. At six months, only about half of women, or 51.8 percent, are still breastfeeding at all. And according to the CDC's 2016 Breastfeeding Report Card, a mere 22.3 percent of women are able to exclusively breastfeed for the recommended minimum of six months.
So why is this? Well, for starters, breastfeeding is physically difficult: even if you don't struggle with getting your baby to latch, you could also be dealing with milk supply issues, sore nipples, or a tongue tie. But when we talk about which women are able to breastfeed and why, it's important to note that there are a ton of societal issues at play — and many of them favor upper middle-class white women.
We need to stop calling exclusive breastfeeding a mother's job. Exclusive breastfeeding is a privilege, not a right.
According to 2008 CDC data, breastfeeding initiation rates are much higher in higher-income, largely white communitiesThey are significantly lower for African-American mothers, as well as Hispanic and Native American women. In fact, according to a study in Breastfeeding Medicine, mothers with lower rates of breastfeeding "tend to be young, low-income, African American, unmarried, less educated, participants in the Supplemental Nutrition Program for Women, Infants, and Children (WIC), overweight or obese before pregnancy, and more likely to report their pregnancy was unintended."
There are numerous reasons for this disparity. In low-income communities, there's less education about breastfeeding, and hospitals nurses are also more likely to encourage low-income black mothers to use formula. There's also a "negative perception" of breastfeeding in the black community, according to a 2015 study in Frontiers of Public Health. The researchers suggest that in the South in particular, this aversion to breastfeeding is partially due to the historical tradition of black women serving as wet nurses for white children.
The lack of mandatory paid parental leave in the United States also complicates the breastfeeding relationship. If you can't afford to take off six weeks after you give birth, it's really hard to establish breastfeeding, mostly because establishing a nursing relationship requires round-the-clock nursing for the first few weeks.
If you have a job that doesn't allow you to pump at work or provide you with a clean place to do so, then you're also less likely to continue breastfeeding your child. Although federal law requires employers to provide accommodations for workers to pump, employers regularly break the law and fail to provide employees with a clean place to pump. Plus, if you're a freelancer, or if you work for a business with less than 50 employees, your boss is not required to give you time to pump at all. And that's assuming you can even afford a good pump to begin with. While Obamacare covers the cost of an electric breast pump, if you don't have insurance, you're SOL.
Breastfeeding is incredibly difficult, and there are numerous complications that can result from breastfeeding. Even if a mother desperately wants to breastfeed, she might not be able to, for numerous reasons — and the lack of social support and resources for low-income mothers or moms from marginalized communities is a big one.
So we need to stop calling exclusive breastfeeding a mother's job. Breastfeeding is a privilege, not a right. If you have the access, ability, and resources to exclusively breastfeed, that is awesome. But before you look down your nose at the mom mixing a bottle on the park bench, you need to check your privilege instead.