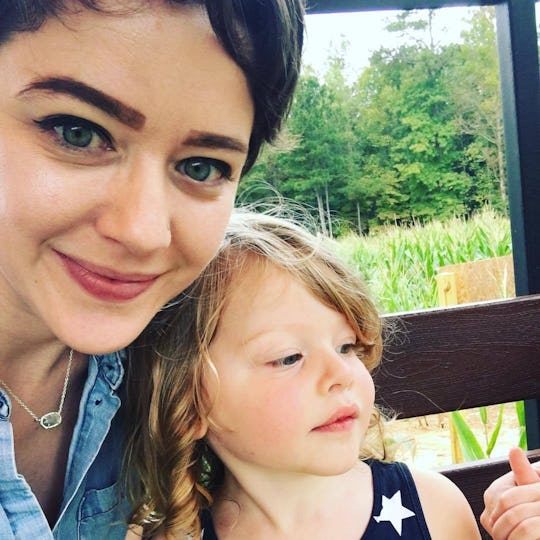 Photo courtesy of Anna Jones
We Still Aren't Ready To Accept Bisexual Moms — Here's Why
All my mom friends live in other cities. In fact, I met most of them on the internet. Some of them are LGBTQ, and some of them, when they've found out I was bi, have asked if being married to a man feels like I've "lost a limb." All of my close queer friends are largely in Atlanta, and none of them have kids. My best gay friends have commented that they've "forgotten I was a mom" when I reiterated why I couldn't make it to events, shows, meetings, et cetera; while this isn't an intentional microaggression, it's spoken with such ambivalence about the most important aspect of my life that I can't help but feel forgotten in a community that prides itself on acceptance. Living in a constant state of ambiguity no matter where you land is the loneliest kind of purgatory.
I first knew I liked girls while looking at a picture of an attractive blonde wearing a cutoff shirt in my small town mall's local CD store. She was my mid-90's version of Farrah Fawcett, and the start of my sexual awakening. Before that point, I had always been dubbed "boy-crazy" — by my parents, my friends, my teachers. I had my first boyfriend when I was 6, which, honestly meant that I called another kid my "boyfriend," and we played together when our parents hung out on weekends. I spent the next 10 years of my life fitting myself into that generalization while secretly crushing on girls in my French classes (bonjour, Shannon from Français 101!).
I realized when I turned 20 that there was a word for what I was: bisexual. At that point, I was in my first real long-term relationship with a guy, and had been questioning for several months whether I actually liked being intimate with him, or whether I was just lying to myself. The day I told him that I was bi, we had great sex, and I realized both. Both is good.
My high school/college sweetheart eventually dumped me, and I had one wild year of singledom before meeting my now-husband. I got pregnant a month after we got married. We moved from Los Angeles, where we were living as broke/starving actors, to Atlanta, Georgia, where he is originally from, to be closer to family. I had our daughter, and gradually waded back into the performance world. I co-founded an all-LGBTQ+ improv group with a friend; we are Atlanta's first LGBTQ improv group. We gained a following, shows, and sponsors. I built a comfortable life as a bi mom.
That need — to be a whole person away from my kid— can be looked down on in both the queer and parenting communities.
Which brings me to the facts: bisexuals have the highest suicide rates within the LGBTQ+ community, and up to 1 in 7 mothers, according to the American Psychological Association (APA), experience postpartum depression (PPD). That math adds up to a mental health shitshow. I suffered from PPD and suicidal ideation after having my daughter. Not because I hated my family, but rather that I had already spent most of my life feeling like an outcast, and had gone from finding myself to once again feeling like a stranger in my own body, entirely at the mercy of a tiny, perfect, demanding human being. Thankfully, there was a small part of my brain that knew I needed help, and that the lies my brain chemicals were telling me were just that— lies. I was on Medicaid when I gave birth, which covered my antidepressants and therapy. My depression lessened to the point where I was actually able to enjoy motherhood and learn how to navigate it while still being able to be who I am, separate from my child.
But I know that even that need — to be a whole person away from my kid— can be looked down on in both the queer and parenting communities. I have a theory on this: the reasoning isn't based on a political agenda, but more on two ideas on why our society has a hard time accepting bisexual moms: 1) It denotes that mothers are sexual beings, independent of their partners and families, and 2) biphobia is alive and well today. Even Miz Cracker of RuPaul's Drag Race fame insinuates that bisexuality is "not gay enough" in this article she wrote for Slate, which had Reddit going nuts. Bi-erasure is nothing new — we are called "greedy," told we should "pick a side" by both straight people and the LGBTQ community. Couple that with having to transverse the tricky waters of parenting, and it's no surprise that bisexuals struggle so often with their own mental well-being.
According to Rewire.News, many bisexual parents aren't even out to their kids. In an article by Lindsay King-Miller, a bisexual female interviewee with a male partner stated, "Yes, I am shielded from bigotry in public, and therefore my son is, but at the same time my sexuality is erased." I don't think I've read a sadder or more accurate statement on the nature of parenting while bisexual. A study done by the National LGBTQ Task Force in 2007 entitled "Bisexual Health," supposed that "the vast majority of parents who aren't heterosexual are bisexual." While gay and lesbian parents still may not have the recognition they deserve, the resources and acknowledgement of their sexuality far outweighs that of bisexual parents, according to the author of that same study.
It's no wonder so many of us choose to remain closeted to our children, when our sexuality is viewed as too sexual and often seen as directly tied to whomever we choose to be in a committed relationship with.
Bisexuals often deal with either complete disinterest or too much interest in their sexuality. Either we experience erasure and have little-to-no resources or support, or people want to overshare their opinions on our sexuality. It's no wonder so many of us choose to remain closeted to our children, when our sexuality is viewed as too sexual and often seen as directly tied to whomever we choose to be in a committed relationship with (i.e., when I've been with women, I'm a lesbian; when I'm with men, I'm straight). There seems to be no point in which it's acknowledged that my sexuality didn't cease to exist when I got married - or became a mother. Acknowledging that I am still able to be attracted to both men and women is received as a slight against my family, when really, it's the very definition of internalized misogyny and biphobia. Mothers are sexual beings — it's how we became mothers in the first place.
Recently, I was a guest on a new podcast called Sex Geeks. The hosts asked me questions on being bisexual, my work in the local improv community, and so on, but one question stuck with me: "Does your daughter know that you're bisexual, and if so, how did you tell her?"
I knew the hosts would ask me questions about my sexuality beforehand, and told them anything was fair game, because I trusted them — and I loved that they asked me this particular question. While I was expecting to be asked about LGBTQ issues, I wasn't expecting to be asked about my daughter. She is, all too often, left out of the narrative of my life when it comes to my queerness. So I told the truth: my daughter is being brought up with the knowledge of my bisexuality.
There's a book my husband and I often read to her called, A is for Activist by Innosanto Nagara. When you get to the "L" part of the alphabet-based book, the lines read, "LGBTQ! Love who you choose, 'cuz love is true! Liberate your notions of limited emotions. Celebrate with pride, our Links of devotion." Whenever I read that to my daughter, I tell her that Mommy is the "B" in "LGBTQ," and that it stands for "bisexual." I tell her to me, that means you can be attracted to multiple genders or identities. My daughter's response is to ignore me and play with her toys, but I know that the more I normalize it, the less weird it'll be for her when she gets older and realizes that her parents are human beings with sexual desires and needs. I hope that it'll help her accept who she is, gay, straight, or something in-between. And I hope that our society starts to view mothers as individuals separate from their partners and children. Maybe my daughter's generation will be the change — the start of something new and un-erasable.
If you or someone you know is experiencing suicidal thoughts, call the National Suicide Prevention Hotline at 1-800-273-8255 or text HOME to the Crisis Text Line at 741741. You can also reach out to the Trans Lifeline at 877-565-8860 or the Trevor Lifeline at 1-866-488-7386, or to your local suicide crisis center.