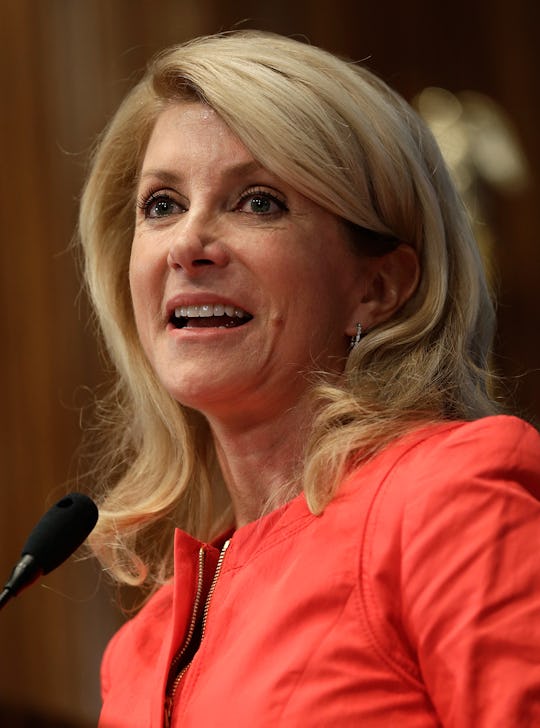 Win McNamee/Getty Images News/Getty Images
Wendy Davis' Women Activists Nonprofit Is About Turning Passion Into Action
It's hard to convince someone that activism is a worthwhile pursuit, which is why former Texas Sen. Wendy Davis' womens activist non-profit is 100 percent on the right track. Davis, if you don't recall, fronted a record breaking eleven hour filibuster in 2013 in an attempt to delay the passage of insanely restrictive abortion regulations. It was exciting to watch, if disheartening when the bill ultimately passed in the second session. Following all of that national attention on the senator, including a nod from President Obama and inspiring a Scandal plot line, Davis was able to use her momentum to launch a campaign for the governorship in 2014 (although she was ultimately defeated).
But activism is about the long game, and Davis wants to help other women understand that. At South by Southwest on Monday afternoon, the tireless former politician announced a new non-profit effort called Deeds Not Words, aimed at organizing younger women to stand up for gender equality. According to The Texas Observer, Davis said that Deeds Not Words will provide "toolkits" for women who want to take a stand. She told the crowd at SXSW that she wants to gather all 38 million women in the country to "transform their passion for women's rights and progress into action."
The new effort is more about empowering women rather than holding their hands, she said. "While I hope to be a partner, reaching and conquering the final frontiers of women's equal rights must ultimately led by you," Davis told the festival attendees. "I hope you will fight alongside each other regardless of your political perspective or stage in life and understand your shared stake in women's advancement."
After she announced the initiative, Davis addressed the gender pay gap, but noted that the fight should also be geared towards sexual assault, paid family leave, or anything else women care about, no matter their age.
Being a role model for activism is something that Davis cares deeply about. The former senator recently told The Texas Monthly that she thought women would stop seeing her as a role model after she lost her gubernatorial campaign in 2014, adding that she was honored people still wanted her advice, and saying,
I feel this incredible responsibility to young women and I see how hungry young women are for female role models in the world. I have been blessed with the opportunity to be one of those, and I take that responsibility very seriously and I want to make sure that I use that opportunity as productively as possible.
Davis tried to stop a bill from passing in a spectacular way and failed. It's telling that given our 24-hour news cycle and celeb obsessed culture, Davis thought no one would remember her after she lost. It's even more telling that women view her as a superstar anyway. Attempting to create a space where women can meet others and learn about how to turn their interests in certain issues into real political action is a perfect way to be that role model.