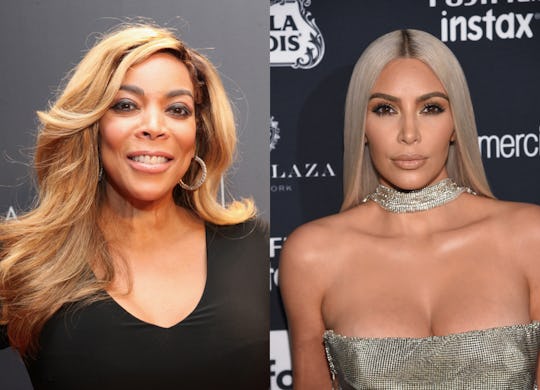 Teresa Kroeger/Getty Images Entertainment/Getty Images; Dimitrios Kambouris/Getty Images Entertainment/Getty Images
Wendy Williams Shamed Kim Kardashian For A Topless Photo, & People Are So Pissed
Keeping Up with the Kardashians star Kim Kardashian can't seem to catch a break these days — mostly because people simply can't seem to leave her alone. On Tuesday, Wendy Williams criticized Kardashian for posting a topless photo on Instagram, with the Wendy Williams Show host saying that it was "clear" that Kardashian was "desperately trying to stay in the spotlight." There were also some attacks on Kardashian's relationship with her husband, Kanye West, and absolutely nothing about Williams' criticism was OK.
"Kim, it's clear Kanye has nothing for you except dribble and dribble and evil conversation," Williams said on her show Tuesday, according to People. She continued:
It is clear that Kanye does not pay attention to you. Kanye makes money, Kim makes more, why are you still doing this? It's not even about the mother thing, forget the mother thing, because a lot of people will say, 'Oh, she's a mother.' It's about, she doesn't have to do that anymore. That would be like Cardi B returning to the poll on a Saturday night or something like that.
The Wendy Williams Show did not immediately respond to Romper's request for comment regarding her statements during Tuesday's segment. However, many people — Kardashian fans or not — took issue with what felt like a heaping dose of slut-shaming in William's comments.
"Stop being part of the issue," one Twitter user, Kendall Fisher, tweeted at Williams on Tuesday. "A woman doesn't need a man or anyone else to give her attention (or not). If [Kim Kardashian] wants to show off her body then she should damn well do it—without yours or anyone's approval."
That is, essentially, what it comes down to. There are so many things wrong with Williams' comments. First of all, by saying that Kardashian "doesn't have to do that anymore," she's implying that women "have to" show off their body to either attract men or make money — but that they should stop as soon as they have either (or both). Once a woman has made it, in life and love, she's expected to pack it in and become "proper."
Williams' comments also assume that the only reason a woman would ever show off her body or sexuality is to attract men or attention — which is such a reductive, sexist view. As Kardashian explained on her app in 2016, according to Us Weekly, that's not what her nude photos are about. Instead, Kardashian explained:
I am empowered by my body. I am empowered by my sexuality. I am empowered by feeling comfortable in my skin. I am empowered by showing the world my flaws and not being afraid of what anyone is going to say about me.
That's a sentiment that Kardashian has echoed more recently, as well. "If I post a photo, I post it because I like how I look," Kardashian told E! News last year. "I post it because I feel like posting it and I feel powerful."
And when it comes to people who aren't into topless pictures, they have another option besides criticizing Kardashian: they can simply ignore the pictures. "If you are conservative and that's how you are comfortable, more power to you," Kardashian told Recode in 2016. "I respect you. You don't have to look at what I do."
Every time a woman is shamed for her body or her sexuality, society is teaching young girls that they need to either conform to a certain ideal or face rejection. What we should be teaching young girls, instead, is to be comfortable in their own skin and comfortable with their own sexuality — whether that means covering up entirely or wearing nothing at all.
Check out Romper's new video series, Romper's Doula Diaries:
Watch full episodes of Romper's Doula Diaries on Facebook Watch.