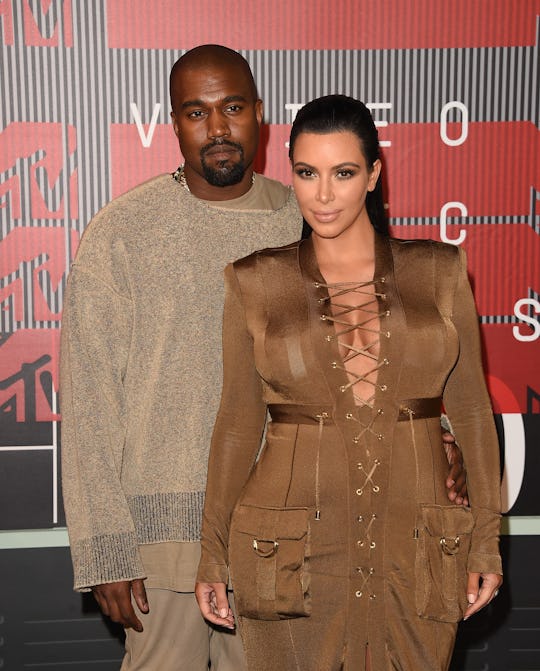 Jason Merritt/TERM/Getty Images Entertainment/Getty Images
Wendy Williams Criticized The Amount Kim & Kanye Paid Their Surrogate
Wendy Williams is the kind of talk show host most people either love or hate — primarily because she doesn't even sort of hold back when it comes to offering her opinion. She's shared her disdain for public breastfeeding, for example, has sparked feuds with a string of different celebrities after making comments about them on her show, and even lost one of her show's sponsors after criticizing the NAACP. But that doesn't seem to have influenced Williams' outspoken nature: on Wednesday's episode Wendy Williams said $45,000 isn't "a lot of money" for Kim and Kanye's surrogate, according to Too Fab, and suggested that the wealthy couple should have better compensated the woman who carried their third child.
Following the arrival of Kardashian and West's third child Monday, Williams discussed the couple's decision to use a surrogate on her show, and said, "$45,000 ... is not a lot of money for the situation," — presumably based on earlier reports by TMZ, which claimed that the couple agreed to pay their unnamed surrogate "$45,000 in 10, $4,500 monthly installments." Neither Kardashian nor West have officially commented on the terms of their surrogacy contract (and, uh, why should they?), but Williams made it clear she wasn't impressed with the rumored agreement. She said,
So what happens, you grab the baby and leave her bleeding and dismiss her? No, seriously ... Will [the surrogate] write a book? Will she start selling stories?... 'Kim called me every night, Kanye called me every hour, they insisted I only eat beyond burgers, salads, out of a plastic container like they do on the show.'
Williams' suggestion that Kardashian and West treated their surrogate poorly is straight up offensive, not to mention unwarranted — who is she to say whether or not the arrangement was unfair? But her comment does raise at least one valid point: getting pregnant, carrying, and delivering a baby on behalf of another couple is a huge endeavour, and it also comes with the possibility of potentially life-threatening risks. As much as surrogates enter into these agreements willingly, it's certainly not the kind of "job" you can leave at the office at the end of the day — even an easy, healthy, uneventful pregnancy would have a big impact on a woman's life, as well as on her family's. Rude Kardashian commentary aside, $45,000 does seem pretty low, all things considered.
But if the TMZ report about Kardashian and West's surrogate is accurate, then there's another part of the story that also has to be taken into account. Although the couple is obviously wealthy and could certainly afford to pay top dollar to their surrogate, TMZ said that they found their surrogate through an agency, which would mean the fees involved are pretty standard across the board, regardless of the parents' net worth.
Though the specific fees may vary by agency, according to California-based surrogacy agency West Coast Surrogates, average compensation for surrogates usually ranges from $30,000 to $50,000. There are other factors though that would increase that amount: experienced surrogates can be offered additional compensation (likely around $5,000), and all surrogates are paid extra for things like invasive medical tests during pregnancy, termination of pregnancy, multiples, or giving birth by C-section. If the surrogate is placed on bedrest during the pregnancy, the couple would also be expected to pay for her lost wages, and according to Fortune, surrogates are also paid an additional lump sum "equal to about a third of [their] total compensation," after they give birth.
In addition to the surrogate's fees, parents are also required to handle all the medical costs associated with the surrogate's pregnancy and birth, and if they decide that they want their out-of-town surrogate to live and give birth locally, they are also responsible for paying her living and relocation expenses. Add in the fee that couples also have to pay directly to the agency to handle the arrangement itself (TMZ said Kardashian and West paid $68,850), and, well, for most non-celebrity couples, the costs involved in surrogacy would be pretty significant.
Since super-rich people obviously aren't the only ones who use gestational surrogates, that might begin to explain the gap between the perceived value of a surrogate's effort and the amount she is actually paid. Although $45,000 might seem far too low objectively, expecting most couples to pay significantly higher base amounts to their surrogates on top of all the other expenses they are responsible would likely make the process too expensive for many prospective clients (according to Glamour, surrogacy usually costs most couples between $100,000 to $120,000 in total, though the variation in associated medical expenses could easily up that amount).
In other words, while it might be easy to judge Kardashian and West (or any other couple, for that matter) for not paying their surrogate "enough", the reality is that the agreed-upon fees would have likely been set by the agency, not the couple themselves. And though the $45,000 base amount might seem low, it's far from being the total amount their surrogate would have actually received once all the other additional compensation is taken into account. It's also not clear whether Kardashian and West would have been allowed to offer their surrogate more money, even if they wanted to: as Teo Martinez, CEO of Los Angeles-based surrogacy agency Growing Generations told Fortune, surrogates carrying babies for celebrities don't get "bonuses" just because of the parents' high-profile status.
It's easy to argue that women who offer to carry babies for other couples should be paid a lot better than they are — and the fact that they aren't is likely at least partly influenced by the way the caregiving and emotional labor largely handled by women is hugely undervalued in general. But it's also important to note that, in most cases, surrogacy is a complex and high-stakes experience where clear-cut rules surrounding fees, finances, and legalities are essential. If Kardashian and West's surrogate was underpaid, it likely wasn't their decision — and it's really no one else's place to pass judgment.
Check out Romper's new video series, Romper's Doula Diaries:
Watch full episodes of Romper's Doula Diaries on Facebook Watch.