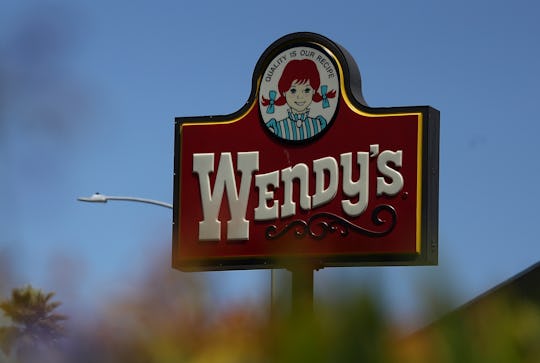 Justin Sullivan/Getty Images News/Getty Images
Wendy's New *Free* Cheeseburger Promotion Is A Pregnant Woman's Dream Come True
Having cravings during pregnancy is completely normal, especially for fast food. But eating out for dinner every day — or for that 3 p.m. snack — can be pretty expensive over the course of nine months. But there is some good news for fast food lovers: Wendy's is giving away free cheeseburgers all September, and it's seriously a dream come true for anyone with a baby on board.
This isn't a typo. Anyone (well, anyone with a smartphone) can get one free Dave's Single cheeseburger from Wendy's a day, according to People, if they follow some simple steps.
All you have to do is download the Wendy's app. From there, go to the "offers" section and click on the free cheeseburger offer. After doing this, there is an option to redeem the offer inside Wendy's or complete the order on your phone, which then allows you to pick up the order inside of Wendy's and surpass the line.
There is only one exception to this offer, according to Money — the cheeseburger is only free with the purchase of another item. But, you will need a drink to wash down that cheeseburger or might want to eat french fries with your burger, so this rule doesn't seem too strict when you think about it. Let's be real, spending just a little bit of money each day for a free burger is probably worth it. What's more, you can reuse this offer every single day until Sept. 30, according to People.
What is the special occasion to warrant such an amazing reward? As it turns out, Sept. 18 marks National Cheeseburger Day, according to a press release from Wendy's. And instead of celebrating just one day, Wendy's decided to celebrate the entire month. There is nothing else to it — Wendy's wants its customers to enjoy a single cheeseburger every single day for the rest of the month — and thanks to the app, they can.
Anyone can benefit from this offer — busy moms trying to sneak a meal in before picking their kids up from soccer practice, dads who want to indulge on the way home from work, or kids who have finally earned a treat for their hard work in school. But pregnant women with some intense cravings are probably super happy about this deal, because this is something that won't break the bank and everyone is always looking for an excuse to save some money.
Fast food cravings during pregnancy are completely normal, according to Baby Center, and something that most women experience, according to Parents. Although pregnancy cravings aren't a heavily researched topic, according to Babble, one study conducted at the University of Connecticut, found that women taste certain flavors more intensely during each trimester of pregnancy and take a preference to those flavors. Hormones also play a big role in pregnancy cravings, according to Babble. But, it's unclear why some women crave Oreos and pickles throughout their nine months of pregnancy while others crave cheeseburgers from Wendy's.
And if you're craving cheeseburgers and french fries, you're not alone. Kylie Jenner has previously revealed that she loved eating cheeseburgers while she was pregnant with her daughter, Stormi, last year, according to Us Weekly. And Fixer Upper star, Joanna Gaines, told People earlier this year that she had been craving a lot of fast food during her fifth pregnancy. This craving was so strong that she made her husband, Chip Gaines, go to four different fast food restaurants just to create the perfect meal, according to People.
With all this said, pregnant women (and everyone else, for that matter) shouldn't feel bad if they take advantage of this amazing deal from Wendy's every single day, or even once or twice a week. It's just too good of an offer to pass up.