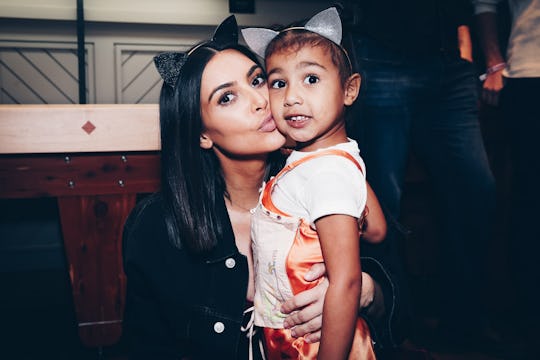 Handout/Getty Images Entertainment/Getty Images
Do Beyoncé's Twins & North West Share A Birthday?
The internet pretty much exploded with joy over the weekend after Us Weekly and a number of other outlets reported that Beyoncé had given birth to her twins. Since Beyoncé and her husband Jay Z have yet to release an official statement regarding the happy event, it's not yet clear what day the twins were actually born. While some fans believe Bey welcomed her twins on Saturday, there are other sources saying the babies arrived earlier in the week. Another celebrity kid celebrated her birthday this week, as well, so there's some speculation that the Carter babies may share a birthday with Kim Kardashian's daughter. Even if Beyoncé's twins were born on North West's birthday, though, it's totally not a big deal because this isn't a competition, after all.
North West celebrated her fourth birthday on Thursday, June 15 at Chuck-E-Cheese with members of her family, including Kardashian, dad Kanye West, baby brother Saint, and even her aunt, Khloe Kardashian. North's various birthday activities were well-documented across her famous family's many social media accounts. Her mom even revealed on her Snapchat and Instagram accounts that little North was gifted a puppy for the happy occasion.
Of course, while all this celebrating was going on in North's honor, Beyoncé might have quietly been giving birth to her twins — at least that's what some on social media believe.
The Carter and West families have a long history together in addition to the fact that their kids might share a birthday. Jay Z and Kanye West have collaborated on a number of musical projects over the years, including the full album Watch the Throne in 2009. And who could forget the infamous moment at the Video Music Awards when Kanye rushed the stage during Taylor Swift's acceptance speech to say Beyoncé had been snubbed? These two families definitely go way back, so their kids sharing a birthday would be another awesome connection between them.
TMZ reported this week that Beyoncé and Jay Z actually welcomed their little ones on Monday, June 12, rather than on North's birthday. According to the outlet, the twins were reportedly born in a Los Angeles hospital and are still admitted due to a "minor issue" during the birth, though the outlet "[did] not know the nature of the issue." Both babies, as well as their mother, are expected to be fine. No further details about the twins' arrival have been divulged, however, and Beyoncé and Jay Z have yet to officially comment on this matter themselves, so for now, all of the reports are merely speculation.
Sharing a birthday with another celebrity kid is really no big deal. The most important thing for everybody following any birth is that mother and child are happy and healthy, after all.