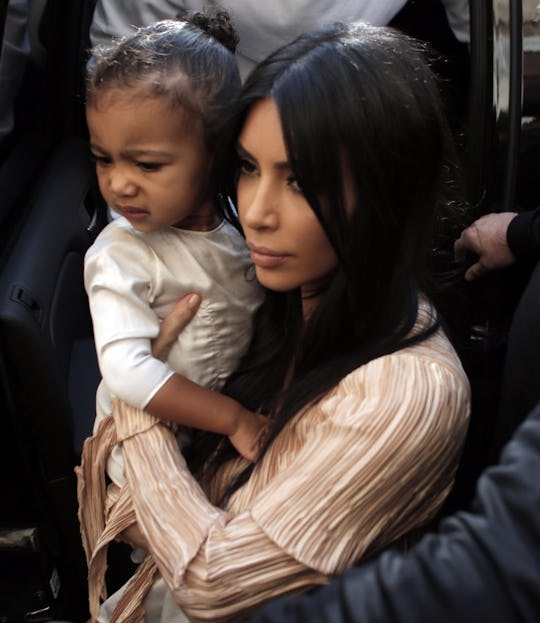 AHMAD GHARABLI/AFP/Getty Images
Were North & Saint With Kim Kardashian When She Was Robbed? It Seems They're Safe At Home
While Kim Kardashian was in Paris for Fashion Week, she had a couple of very high profile security breaches. The first was when a Ukranian prankster tried to kiss her rear end while she was out on the streets of Paris. The second was a horrifying robbery in the star's exclusive hotel where she was tied up and locked in a bathroom while robbers made off with millions in jewels and two phones. Were North and Saint with Kim K when she was robbed? Reports aren't clear.
"It's unclear whether the couple's two children, 3-year-old daughter North and 10-month-old son Saint, were with Kardashian West when the robbery happened," according to the Associated Press, NPR reported. "Police said the actress' family was placed under police protection at the George V palace after the incident."
But People Magazine thankfully reported that North and Saint were not involved in the heist. After speaking with French authorities, Kardashian was understandably ready to head home and was spotted boarding a private jet out of Paris on Monday.
A rep for Kim Kardashian released the following statement to Romper:
Kim Kardashian West was held up at gunpoint inside her Paris hotel room this evening by two armed masked men dressed as police officers. She is badly shaken but physically unharmed.
At least no one was hurt. But according to The Mirror, Kardashian reportedly begged the robbers to spare her life because she has "babies at home" she needed to take care of.
According to TMZ, five criminals posed as police, held the concierge at gunpoint and forced him to unlock Kardashian's room. TMZ added that Kardashian was gagged and restrained with handcuffs and put in the bathtub while the robbers made off with her jewels valued at nearly $10 million. The crooks then reportedly escaped on bicycles.
Here's footage of Kanye West stopping his Queens, New York, concert as soon as he heard about the robbery.
And here's a look at the hotel where Kim was staying along with her sisters Kourtney and Kendall and mom Kris, according to People.
And here's an image of what is reportedly Kim boarding a private jet out of Paris as soon as she was finished talking to police.
What a scary incident. But one piece of good news is that reports suggest her babies, 3-year-old North and 10-month-old Saint, were no where around. I can't blame her for getting on the next plane home to see them, because even the world's most glamorous mom knows her babies' safety is more important than all the diamonds, jewels, and baubles in the world.